7 Ways to Make Money as a WordPress Professional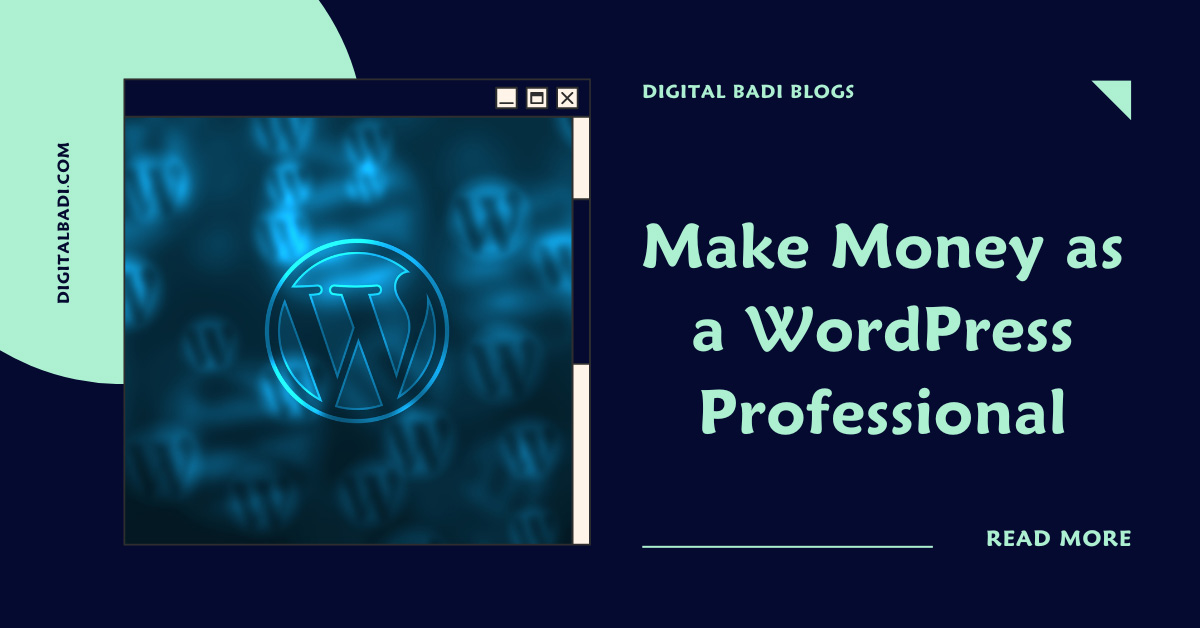 Learn 7 ways to make money as a WordPress professional. WordPress is the initial thing that comes to mind when I think of making money online. The reason is self-evident! It is the best and most widely utilized content management system for successfully creating and running websites.
When WordPress first appeared about a year back, nobody could have predicted that it would reach the prominence that it now enjoys. WordPress has emerged as one of the most popular online tools, assisting people in creating websites at no cost to some of them.
1. WordPress Developer Job
Do you want to start a career as a web designer or developer? WordPress products and services are in high demand as a result of its popularity. If you enjoy working on WordPress, you can turn your hobby into a profitable business.
In recent years, many WordPress-based businesses have launched and succeeded. In this section, we will examine various WordPress business ideas for developers which have been tried and tested to be successful.
2. Freelance Website designer
 If you are a WordPress developer, you can make a lot of money on Fiverr. You can work wonderfully as a freelance web designer as well as earn a decent living. So, if you want to be a freelance web designer and would like to understand how things work on Fiverr, keep reading. So, in this post, I'll show you some Fiverr gigs related to WordPress website design. You can gain a better understanding of this type of work from these gigs.
3. WordPress Tutor
If you're having problems trying to navigate homepage layouts, theme options, SEO optimization, and site builders, work with one of the best wordpress tutors to gain confidence in making changes to your website. Get up to speed faster with WordPress tutoring tailored to your specific website challenges. Meet with one of our WordPress experts virtually or in person to go over everything you need to understand about managing your specific WordPress website.
4. Web designing agency
Having a web designing agency makes you earn a good amount of income, being a web designer makes you a good freelancer and starts up with a web designing agency. You can make use of these opportunities and become an expert in designing.
5. Affiliate Marketer
Thousands of products around WordPress opens an opportunity to become an affiliate marketer and products. Software products like WordPress premium themes, WordPress premium plugins, Web hosting, domains, add ons, etc., gives you an extra income source to make money through WordPress Skill.
6. Building landing pages
Landing pages have emerged as an essential tool in so many lead generation strategies inside the digital marketing landscape. They're also among the most misunderstood as well as misapplied pillars in so many marketing strategies.
Landing pages, as opposed to websites, are significantly focused on bringing customers further down the sales funnel. A landing page is much more conversion-focused, attempting to engage the visitor and directing people to take a specific action.
7. WordPress consultant
A WordPress consultant also should prove to you how your webpage fits into the larger picture of your business. They serve as advisors and it may assist you in refining your business plan. Because you'll have a specific path to follow, you'll save a lot of money and time. Some consultants specialize in specific areas, such as nonprofit groups or e-commerce sites.
Want to learn WordPress and add another income source for your wealth? Join our WordPress training program.
John is a Digital Marketing Trainer and Blogger and YouTube creator with 5+ years work experience in digital marketing field. He is the founder of Digital Badi.