Career Opportunities in Graphic Designing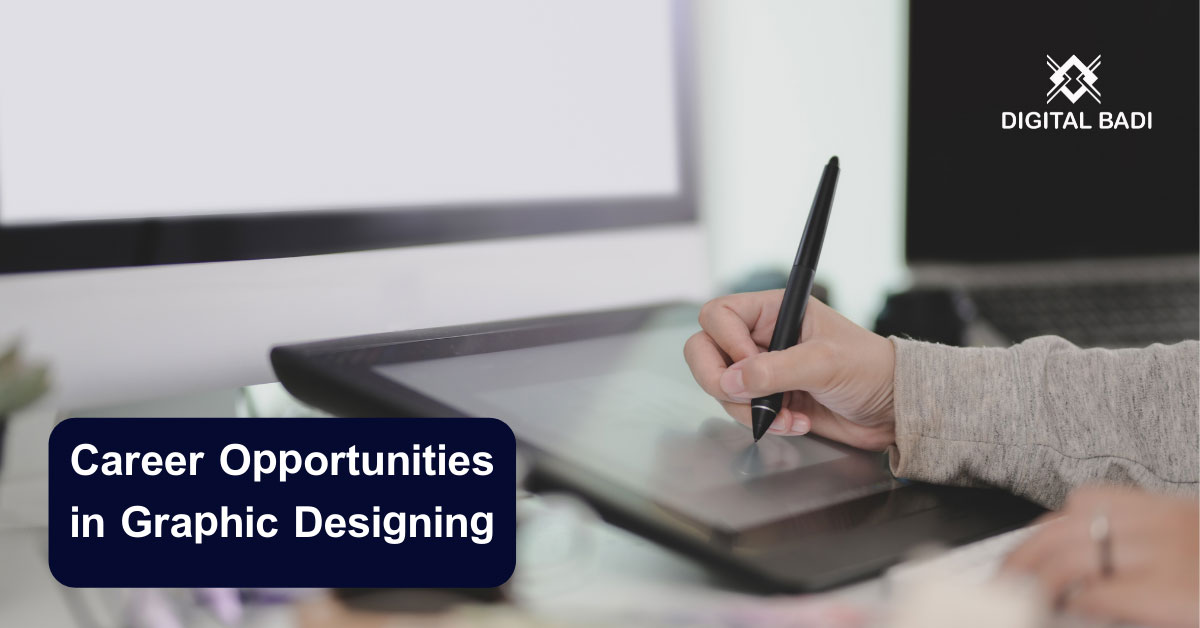 Career Opportunities in Graphic Designing
As we all know, the field of graphic design has grown by leaps and bounds in the past decade, giving birth to new sub-fields and specialized designations. However, many people are still clueless about pursuing a career in graphic design, and  Digital Badi aims to help you with just that. So, get ready to get a head start in graphic design with this opportunity to make a living.
A career about graphic designer
Graphic designers are the people who make the visual look of a company or product. They are responsible for creating a unique look and feel for a company's products.
Graphic designers have been- around for centuries. Their work has often been described as art and craft, but it is also called design, illustration, or graphic art. The word 'graphic' comes from the Latin "graecus," meaning 'good looking.' In other words, graphic designers create images and bring out the best in their clients. 
They combine creativity with technology to make sure photos are as beautiful as they can be.
The other word that comes from graphic design is 'graphic artist.' Visual artists use computers to create graphics and illustrations on paper or any other mediums such as screen printing, computer
Graphic artists can quickly produce graphics using computers, even with no prior knowledge of computer graphics. Visual artists have the power to make high-quality graphics regularly, and they can create images and illustrations in a fraction of the time it takes most graphic designers. These are the highly advanced graphic programs that can create visually appealing, informative, and aesthetically pleasing work.
Graphic programs are a handy tool to help you design and create your work in a way that appeals to you. Digital Badi: The Centre of Learning will teach you how to use the latest graphic programs and share with the reader tips and tricks on how to work with them effectively and efficiently.
Career opportunities as a Graphic Designer
Graphic designers are skilled professionals who use their creativity and technical skills to create designs for a wide range of media. They can work on print, web, video, and more projects. Graphic designers are responsible for looking at a company's website or social media page. They also make logos, brochures, ads, posters, and other marketing materials.
Graphic designers are in high demand because they are needed to design everything from websites to magazines to advertisements. They can be found in various industries, including advertising agencies and design firms. Graphic designers may also work as freelancers while servicing clients who need their services.
Different fields of Graphic Design?
Graphic Design is one of the most popular and lucrative careers today. There are many different fields in Graphic Design that professionals can pursue.
The most popular fields in Graphic Design are:
1. Web design
Web design is a profession that has continued to grow in the past few years. Companies such as Google, Facebook, and Youtube have employed many web designers because of the need for quick and easy interface updates. Web design is a fun profession to pursue because it doesn't require a college degree, and many passionate people love this industry.
2. Digital design
Digital design is one of the most sought-after fields in the modern era. There has been an increase in demand for those with the skills to design interfaces, websites, and social media posts for companies. This is likely due to how vital these systems are to running a business and the fact that they are easier to update than physical products.
3. branding and logo design
Designing a logo is one of the most challenging aspects of branding. A logo should be memorable, timeless, and uniquely represent your company's identity. 
4. Packaging design
Packaging design is a highly competitive field. The job of packaging designers is to create the exterior & interior of a product to make it appealing and attractive to consumers. This includes designing graphics, colours, materials, and shapes.
5. poster and print design
Graphic design is one of the most creative professions around. These artistic minds can visualize ideas, concepts, and messages in ways that resonate with people through images, words, and colours.
6. Product packaging design
The most popular field in Product Packaging Design is the soft drink industry. These companies use creative and innovative designs to stand out and appeal to their customers. Some of the most notable competitors in this field include Coca-Cola and Pepsi Co.
7. Illustration
In a world where everything is getting digitized, it's understandable that illustrations have been affected. However, the art form has adapted to this change and continues to flourish. It has become so popular that many illustrators can now make a living from freelance work.
8. Animation
The field of animation is one of the most popular in the modern workforce. An animation can be as short as a few seconds or as long as a feature-length film. Some animators may specialize in creating designs and layouts for animated films, while others may concentrate on story development and background painting.
9. 3D modeling
Everyone has at some point played a 3D game. Perhaps you have seen the latest releases in theaters or watched your favorite soccer team on TV. What you might not know is that every time you watch that ball go back and forth, there is someone behind the scenes painstakingly modeling the soccer field.
The job roles in Graphic Designing
The Graphic Designer is responsible for the design of all marketing collateral and brand assets, including:
Social media graphics

Marketing collateral (brochures, business cards, etc.)

Branding (logos and slogans)

Packaging design

Responsibilities:

Create compelling designs that are aesthetically pleasing, functional, and consistent with the brand's mission and values.

Create a timeline for project completion and communicate that to stakeholders.

Work with stakeholders to understand the brand's vision for the product or service.

Collaborate with other departments to integrate marketing collateral into the overall company messaging.

Requirements:

Minimum of 4 years experience as a Graphic Designer working full time in a creative role in an advertising
A Day in a life of a graphic designer
A graphic designer uses their skills to create an image or a design for a company, product, or brand. They have to work with many different tools such as Adobe Illustrator, Canva, Photoshop, and InDesign.
It's important to remember that graphic designers are not just the people who design logos and designs for products. They are also the people who design websites and social media marketing campaigns.
A day in a life of a graphic designer can be very busy. They may have to work on several projects at once while staying up-to-date with current trends and industry news.
A graphic designer may work under different conditions depending on the type of work they've been hired for. They may work in a large company or small company, with or without leadership, or with or without other design professionals.
How do you become a Graphic Designer?
A graphic designer is a creative professional who creates, researches, and develops artwork in the form of 2-D and 3-D images, typography, motion graphics, and other design elements.
Graphic designers are involved in many different fields such as advertising agencies, fashion companies, publishing houses, film studios, etc.
There are many ways to become a graphic designer. The most popular method is to attend art school or college to earn a bachelor's degree in graphic design. Another option is to learn by taking courses online or at an institution that offers online courses is a great way to go back to your career and get the skills you need for a new job.
Digital Badi is offering a Professional Graphic Designing Course in Hyderabad. You can take online course from anywhere. Live training will be provided.
Skills you need to be successful in the design industry?
The design industry is one of the most popular industries in the world. It has a lot of job opportunities, but it also comes with a lot of challenges.
The skills that you need to be successful in this industry are:
1. Creativity and imagination
Being creative is essential for anyone who wants to succeed in this industry. Creativity comes from your imagination, and you need to use your imagination without thinking about how a given scenario will play out.
Being creative is the most crucial skill in any career because creativity separates the average person from a successful one. It's essential to practice your invention so you can be productive and create new ideas repeatedly.
 2. A strong work ethic
A strong work ethic is a must for any writer in this industry. Without a strong work ethic, no one can ever expect to reach their full potential as an author. With dedication and determination, every writer will find success.
3. Strong communication skills
The skills you need to succeed in this industry are strong communication skills. They are the backbone of your job. If you can't speak well with your customers, they will not want to work with you. You must learn how to talk and write clearly so that your words and ideas can impact people's lives.
4. Frequently asked questions
What are the career opportunities in graphic design?
What are the qualifications required to be a graphic designer?
What skills should I have to become a graphic designer?
What are the job duties of a graphic designer?
How much does it cost to be a graphic designer?
Conclusion
A career in graphic design is one of the most popular professions that many people with creative quality and skills take on these days. If you think you have the potential and the imagination, you should go for it. It is not easy to succeed in this field, so you have to be confident, develop rare skillsets, or go for higher research-based education. The competition in graphic design is fierce, but the demand is widespread.
We hope this blog helped you gain a little more perspective on whether you want to take on this career path. Many other benefits of a graphic designer career result in many graduates and working professionals eyeing this career option. get in touch with Digital Badi for more information about career opportunities in Graphic Designer.
John is a Digital Marketing Trainer and Blogger and YouTube creator with 5+ years work experience in digital marketing field. He is the founder of Digital Badi.