Manual Testing Training in

Hyderabad


with


100% Placement Assistance

Looking to start a career in software testing? The comprehensive manual testing course from Digital Badi in Hyderabad equips learners with the must-have QA skills to excel as test engineers. Read on to learn how our practical training curriculum, expert instructors and career support can prepare you for success in this fast-growing field.
WordPress Course

Curriculum

Introduction to WordPress
Installing WordPress
Themes and Customization
WordPress Plugins

Extend WordPress functionality by installing plugins for contact forms, SEO, security, backups without coding.
Website Creation
Blogging with WordPress
Media Management
User Management
SEO Optimization
Migrating WordPress
Security and Backups

Secure WordPress site against threats. Set up automated backups to ensure site safety without coding.
eCommerce with WooCommerce

Set up online stores with WordPress using WooCommerce plugin without coding knowledge.
Launching Your Site

Guidelines to launch and market your WordPress site after completion and testing.
Key Points

of Our Manual Testing Course








Training

Options

Choose your own comfortable learning experience.
In-Person Classroom Training: Our flagship training mode immerses students directly in our state-of-the-art coding lab. Learning together in a classroom environment promotes engagement and collaboration. Instructors can provide hands-on demonstrations and live code reviews.


Live Online Training: Our interactive virtual classes stream directly to you. Learn coding fundamentals, build projects and participate in discussions without commuting. Ideal for remote learning.
Self-Paced Online Training: Learn at your own pace with our on-demand video curriculum. The structured course provides quizzes, exercises and instructor support to stay accountable. Flexible for independent learners.


Corporate Training: We offer customized corporate training programs to upskill company workforces. Onsite and virtual options available to fit your needs.
Live Instructor-led course
Training -

Highlights


Mentorship Programme
Once you know the skills, we recommended you understand the eligible job roles, scope, and opportunities.

Mock Interviews
Explore what the real-time interviews expect from you.

Resume Preparation
We got a resume builder to help you prepare the best resume to win the first impression for recruiters.

Privileged Community Support
We make sure to address any real-time challenges our alumni face during their careers through our community platform.

Course Certification
Applicable for Live-Online learning mode. Provides a set of self-paced videos to recap the subject whenever/wherever you need.

Quizzes To Scale
Get access to our Quiz from the LMS to scale your knowledge.
Why Take a Manual Testing Course?

Key Benefits:

Gain in-demand skills for QA roles
Learn to methodically test software for defects
Master techniques like boundary value analysis, equivalence partitioning etc.
Build expertise with testing management tools
Develop debugging and defect tracking abilities
Improve logical thinking and problem-solving aptitude
Earn certification to showcase testing proficiency
Quickly switch careers to software testing even without prior experience

We provide real practical teaching in our online and offline sessions. 

Providing the best student support during and after the course.

We provide the various industries' case studies in the course.

Providing individual mentorship for all the students during the course.

Every student will learn through one unique project.

Mock interviews for students
Earn Valuable

Certification: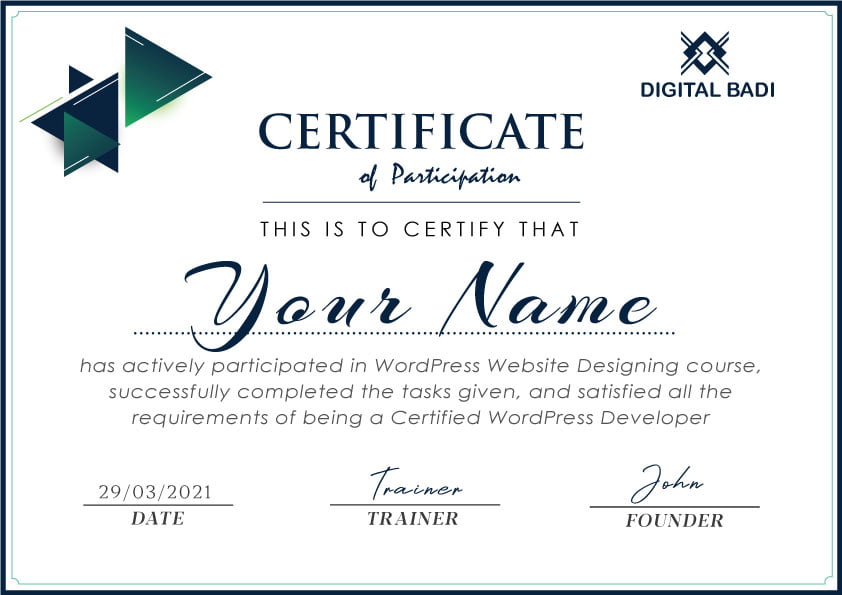 Students who successfully complete the course will earn Digital Badi's reputable Manual Testing Bootcamp Certification. This credential is recognized across the tech industry as validation of your QA abilities.


Over 85% of learners who join our manual testing program go on to graduate and earn certification within 3-6 months. This pass rate is a testament to the quality of training delivered by our skilled instructors.


The certification helps graduates confidently apply to QA roles knowing they have a proven set of testing competencies. Simply show employers your Digital Badi certificate to demonstrate your commitment to a career in software quality assurance.
Student

Testimonials

You may not believe us, but you can believe them
Digital Marketing course has changed my entire life. It has definitely made me a better person today and has upgraded my knowledge to next level.
Number of hands-on exercises & assignments make me master in various Digital Marketing concepts & tools provided by DigitalBadi i am very much happy to be associated with Digital Badi training institution and am wholeheartedly thankful to Digital John Sir.
Digital Marketing course by digital John sir is a life-changing decision for me. Sir clarifies every single doubt you have. Digital John sir justifies every penny you are paying.
This class was excellent--where have you been all my life? The instructor was incredibly knowledgeable and articulate. This was the first time I have taken a class in a remote format, and I was delighted with it and look forward to coming back to "Digital Badi" for more classes in the future. I loved the fact that even though I was in a class with other people, the actual physical space was private and quiet and very conducive to learning! Thank you.
I took video editing course in Digital Badi. Santhosh (Trainer) took my video editing skills to the next level in course. This course helped me to get a professional video editor job.
Even if you are new to online training, it is a great thing to do digital marketing course through digital school without getting any feeling, not only giving practical but also giving life long support whenever there is a need. Thank you Digital John.
I took digital marketing course from digital badi by the excellent trainer john sir. His knowledge about digital marketing is great and excellent, Digital Badi helped me to upgrade and takes me to the next level. Before completing my course I got an internship offer from one of the MNC and I am so thankful to John sir. If you want to learn digital marketing course in Hyderabad, then consider Digital Badi
What I like about Digital John's teaching style is he doesn't overhype the process. He simplifies it, gives real-life examples. He also gives very clear information on how a particular process creates ripple effect with respect to your brand awareness. Overall, I totally enjoyed my learning experience and I would definitely recommend
Video

Testimonials

Abundant

Job Opportunities

for Manual Testers in India:

Manual testing skills are highly sought after by tech employers in India. Strong QA is crucial as companies build more complex software applications and want to deliver defect-free products to customers. Some key facts about manual testing job prospects:
The Indian testing services market is projected to grow at a CAGR of over 12% until 2025.
India has over 1 million software testing professionals, with demand for tens of thousands more each year.
Top tech services companies like TCS, Infosys, Wipro and Cognizant are all massively recruiting manual testers.
Tech startups and product companies also hire talented QA professionals.
The average entry level salary for manual testers is ₹3-4 lakhs, rising up to ₹8 lakhs with experience.
Accelerating

Demand for Software Testing Globally:

Global spending on software testing services is forecast to reach $106 billion USD by 2026. Asia Pacific in particular will see strong testing demand. The worldwide adoption of cloud, mobile apps, IoT, AI and other emerging technologies means rigorous QA is a priority.
As technology gets embedded in every facet of business and daily life, skilled testing professionals will be imperative. Taking a structured manual testing course today can position you perfectly for long-term career growth and stability.
Why Digital Badi?

Top Reasons Students Trust Us for Manual Testing:

87% Placement Rate: Our career support helps students land QA roles
5 Star Reviews: Rated excellent by past trainees on Google and Facebook
Expert Instructors: Seasoned professionals guide your learning journey
Convenient Locations: Easy accessibility in Hyderabad
Affordable Fees: Flexible EMI options to suit your budget
Alumni Network: Get access to an exclusive community after course completion
Mock Interviews: One-on-one practice tailored to your interview weaknesses
Resume Prep: Experts evaluate and optimize your resume to impress employers
Lifetime Access to Materials: Review concepts even after you graduate
Is a Manual Testing Career Right for You?

Though no specific prerequisites are required, certain core skills will help you succeed:
Detail-oriented: You must be meticulous and have sharp observation skills.
Technical aptitude: An analytical mind and logical thinking abilities are a must.
Good communication: Reporting defects clearly and comprehensively is critical.
Patience: You must be able to calmly repeat the same test steps multiple times.
Teamwork skills: Collaborating with developers and stakeholders is important.
As long as you have the desire to learn and the foundation to build on, our expert instructors can teach you the rest!
Frequently Asked

Questions

Contact us

to Enroll the Course

or YOU can fill the form. We will get back