Content Writing Course

We will cover all the content writing training in this course.
Spread over five weeks, every week will be focused on one module.
There will be an assignment every day at the end of the class, which will be reviewed by content experts, giving you individual feedback and hand-holding you to excel as you learn. Focusing on 3 types of content writing.
Different modules included are :
Website Content

Website content is where a company displays about who they are, what they do, their testimonials, and many important data which can attract customers. Writing about website content requires a skillset where you will fully understand customer requirements. Many times business owners do not know what they want & are not great at communication! And, thats where your skills as a writer are put to test. We are here to make you learn to write informative, engaging, and SEO-optimized content for websites that will hold their attention and make them read more. We will also guide you on how you can create a rough content wireframe that can impress your clients and give you a win-win situation.
Blog Content

All the information that we read on the internet comes through blogs. Right from choosing the right topic to placing the keywords rightly to writing a knowledge-filled blog is important. With our training, you will learn how to write well-researched and easy-to-read content on topics in different niches. We will help you find your niche expertise and teach you how you can upskill in other niches.
Social Media Content

There is so much content on any social media you open today, and every business is striving to do better content-wise. With so much pressure, many writers face creativity fatigue. We help you discover your own writing style, create interesting stuff and learn how to think out of the box. You will master the art of creating crisp, eye-catching copy for trending social media platforms like Instagram or Linkedin.







Training

Options

Choose your own comfortable learning experience.
Live Instructor-led course
Content Writing

Course Videos

Content Writing Tutorials
What will you learn?

Choosing and creating content buckets
Brainstorming for different content ideas
How to research content from different sources
Designing the outline & giving flow to the content
Writing your content/copy from scratch
Proofreading & Finishing the content
The differences between traditional content and web content.
How to attract people's attention and engage them with your content
The significance of SEO and the use of keywords.
How to use tools like Grammarly to make your content error-free and perfect
Proofreading secrets from experts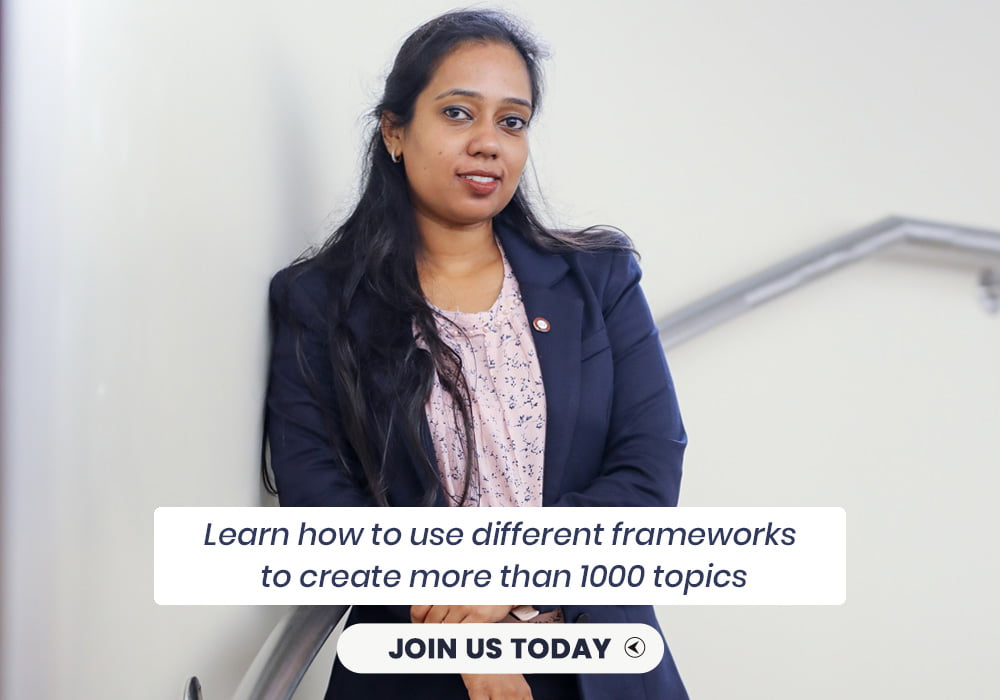 Why Should You Learn Content Writing?

High-in-demand career option to explore
Sense of accomplishment by contributing to brands
Enhances your communication skills
A great source of passive income
Excellent growth prospects
Potential for self-employment
Get a certification that will help you get a lucrative job
Add value to your resume and increase your employment potential
As a student, earn passive income as you study.
Expand your network by connecting with the content writing community.
Understand the difference between different types of English like US, UK, Australian, etc.

Learn how content can impact the prospects of a business through marketing and advertising
Learn technical tips on how to launch personal blogs and basic websites
Learn technical tips on how to launch personal blogs and basic websites
Get advanced research skills that will enalbe you to write on any topic
Training -

Highlights


Mentorship Programme
Once you know the skills, we recommended you understand the eligible job roles, scope, and opportunities.

Mock Interviews
Explore what the real-time interviews expect from you.

Resume Preparation
We got a resume builder to help you prepare the best resume to win the first impression for recruiters.

Privileged Community Support
We make sure to address any real-time challenges our alumni face during their careers through our community platform.

Certification Course
Applicable for Live-Online learning mode. Provides a set of self-paced videos to recap the subject whenever/wherever you need.

Quizzes To Scale
Get access to our Quiz from the LMS to scale your knowledge.
Eligibility

It's a myth that anyone can be a writer. For some, writing comes naturally, while for some its a struggle. However, there is a pre-requisite to start writing, which is FLUENCY of the language. And you cannot deny that!
Content Writing is a skill where you must have your language basics set right
Good Grammar Skills 
Fluency in the English Language
Familiarity with Google docs & MS Word
If you haven't written earlier, don't worry! With the above skillsets, we can carve out you to be a good writer.

Job Opportunities
Freelancing Opportunities
Business Opportunities
Side income chances
Delivered by the Best

Trainers

Content Writing Course

Syllabus

The different Website modules here are as follows
The different Blogs modules here are as follows
Understanding the purpose of the blog, SEO, and usage of keywords
Forming the blog outline and conducting competitor research
Starting the introduction & writing the subheadings
Filling the subheadings with bullet points
Giving a call to action to the blog & proofreading
The different Social Media Marketing modules here are as follows
Creating content bucket/content calendar for your niche using different frameworks
Understanding and developing content on a static, carousel, or reel
Editing your assignment content to make it friendly and witty
Repurposing content for different social media platforms
Content Writing Course

Certification

Frequently Asked

Questions

Key Features of

Content Writing Marketing Course

We have designed our content writing course in a way that empowers the participants to get hands-on experience. This is the first of its kind course, where every participant shall receive detailed feedback from content experts on their homework assignments. This course is the best way to learn content writing
Here is how the course is planned:
Sign up:
Once you have registered for the program, you will be added to a Whatsapp group for all the updates
Attending Classes:
We will notify the dates of the class, and every class shall be of 1-1.5 hours, where you will be explained in detail about the module.
Assignment:
At the end of the class, you will be assigned work to do post learning. It is mandatory to complete your assignments before you turn up at your next class. These assignments are small, easy to do, and won't take much of your time. Sometimes, we may ask you to do assignments in the classroom itself as the lesson goes on
Submission of the Assignments
You will submit your assignments in a Google folder which we give, where our content expert will check your work and provide feedback via comments. Read our blog on AI writer vs Human Writer
Breakout Rooms
On the last day of the week, we will assign random breakout rooms with 5-6 students in one room, along with one content expert from our team. Here they will work closely with your complete assignment and also provide feedback. This is our salient feature of the program, which enables the participants to take part fully, show their assignments to the experts, and have their doubts cleared.
Learn from Top-notch content experts
One great advantage of our course is that you learn from people who have written various types of content for top national and international businesses. Some of our content has helped our clients rank on the first page of search engine rankings. You will receive valuable tips and tricks that will help you write stand-out content that will be appreciated by all.
You may not believe us,

but you can believe them

Students shared their learning experience after the course
I have been experienced with different content writers, it was like converting my thoughts in sentences. But with Akanksha she will give a proper strategy how to grab the attention with content. Surprisingly even with two words, since couple of years she is working for our company, I strongly recommend Degefy for content, digital marketing, SEO, and other social media contents.
Its my pleasure to recommend Miss. Akansha Dalmia, Managing Director of Degefy located at Kompally, Hyderabad. She has given a useful content for our Nigha Corporate video. She has put lots of efforts She took very less time and given very informative content and mostly charged very less amount. I really thanks to Miss. Akansha Dalmia being part of my video grand success, even my Kapil management is also very happy with her content which is used in our nigha video. I strongly recommend Miss. Akansha Dalmia and her team to take their services to all my relatives, family, friends and clients to avail their services. Thanks Azim Vice President - Nigha
I have been experienced with different content writers But with Akanksha the way she did the work is impressive and the content quality is too good and logo work also she did it was very good and in the logo they way ask the questioners and there logo process is very impressive and i highly recommend there digital marketing services
I got to know Akansha from BNI. We are into making animated content and graphic designs . We come across many content writers but she is very prompt, and her writings are simple yet researched. I am sure you won't regret getting your content written from her. Thank you so much for your services. Looking forward to more collaboration.
At Video Sparkle, we have been constantly engaging with Akansha for the content scripting for our videos for our customers. She is an excellent writer with Bulls Eye on the topic, she involves with or been asked to work upon. We are very happy to associate with her and extremely satisfied with quick and prompt delivery. We are looking forward to collabore more in the coming year 2021! Best Wishes from Video Sparkle Team
We are extremely grateful to Akansha Dalmia Content writers for their outstanding work in creating a new webpage for our Educational and Consultancy Services. Akansha and Naveen walked us through the process, were patient with our questions, and took the initiative to keep us on our timeline. Not only did they present us with a totally revamped website that shows off a slick new design and streamlined management, they did it how we exactly want. Akansha and Naveen were just the experts we needed for our website. They went above and beyond. I heartily recommend Akansha Dalmia Content writers for organizations or companies looking for excellent, efficient, and affordable web design.
I took Content translation services from Akansha Dalmia and Team. I was amazed to get the task done on the same day itself with the exact concept even more refined. I highly recommend their services not just for Translation but also for all forms of quality content creation. Looking forward to more collaborations.
Akansha has been helping me with Content development for our clients and She is excellent with Deliverables and TAT. We appreciate the work she is producing for our client as content writer specialist for digital platforms and SEO Content writing
Akansha and Fotilo Films collaborated for festive videos. Her unquie way of presenting concept help grabbing attention of viewers. We got very good response. Looking forward for more great collaboration in future 👍 keep up the good work!
I've been working with Akansha for over a year. Really satisfied with the quality of work and the prompt delivery. Keep up the good work.
Let us discuss !

your course strategy

or YOU can fill the form. We will get back
Why

Digital Badi?

We provide real-world practical instruction in our  sessions.
We created the best beginner material.
Providing exceptional student support during the course.
We provide case studies from various industries.
Assisting all students in completing 10+ global digital marketing certifications
Providing individual mentoring to all students throughout the course.
Each student will learn through a one-of-a-kind digital marketing project.
Assisting with the preparation of fresher resumes for digital marketing internships and jobs
Student mock interviews and placement assistance