How to Learn Content Writing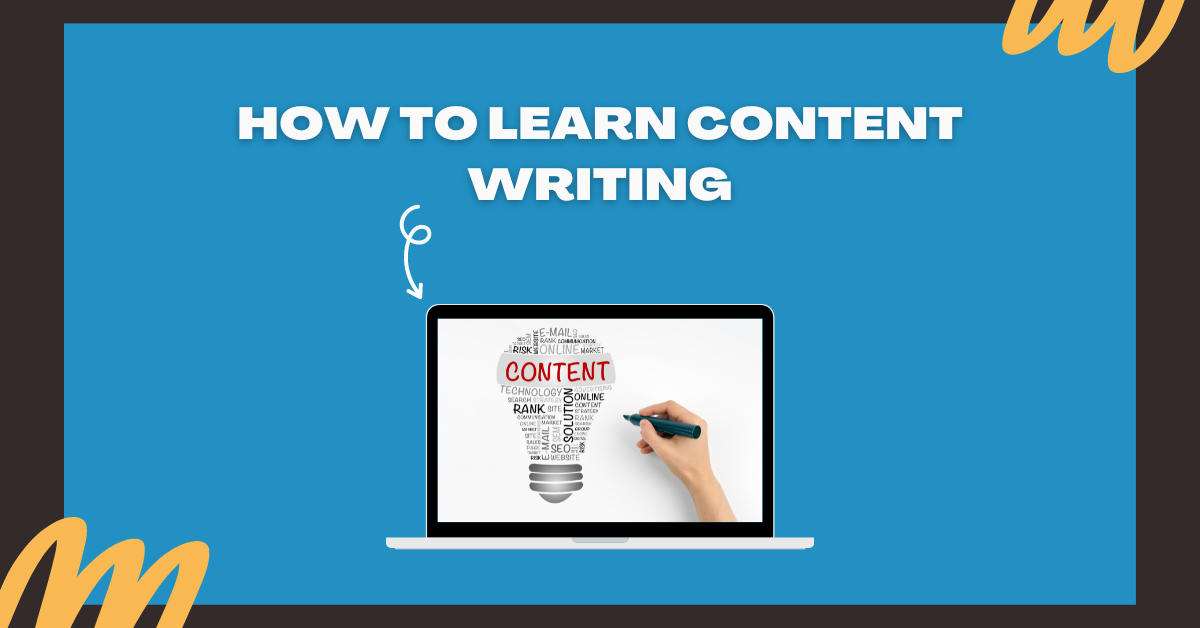 1. How to Learn Content Writing?
Content writing is one of the most demanded skills of the era. It is the age of digital marketing, and almost every brand wants to establish its digital presence for better business. For any kind of online establishment, content writing remains constant as a pedestal. 
Content writing is a dream job for many. Many people have an enthusiasm for writing and also a good sense of grammar. Such people can easily choose content writing as their profession, but they only need more knowledge and training on how to write more professionally to become successful.
Have you ever thought about why with the same degree of knowledge, someone always creates better and more attractive write-ups than you? Well, there are several contributing factors. 
The most crucial characteristics that distinguish good writing from a not-so-good one are proper research, suitable content organization, understanding and justifying the content's purpose, and accuracy. The more you can make your pieces flawless, the better it is. 
2. How to Become a Better Content Writer?
Here are some steps to follow to improve your content writing:
1. Identify Your Niche
You have to know that you cannot be good at everything. You will be the best in some niches, while others may not be your cup of tea. The first task is identifying your strengths and weaknesses and picking up projects accordingly. In the initial phase of your career, don't mess with the niches you are not good at. Later, you can try your hand at almost all the niches. 
2. Pay Greater Attention to Research
One critical factor distinguishing a great writer from an average content writer is the amount of effort you put into research. A well-researched content write-up will be perfect in all aspects. It will be reflected in the quality of information it contains. Research the topic from multiple genuine sources. As you age more as a content writer, you will understand a lot about which authorities to rely upon and which to discard. But from day one, your objective should be to collect as much relevant information about a topic as possible before writing.
3. Make the Content Flawless and Accurate
Accuracy is one of the factors that will make your content the best. Grammatically correct content is easier to read, engages your audience, and helps generate leads. However, the signs of an experienced content writer lie in the article's accuracy. The flawlessness should not only be in terms of grammar but also in content organization and justification of the topic. 
4. Justify the Purpose
The purpose of sales copy is very different from that of a blog. As a content writer, you have to carefully analyze the purpose of your writing and stick to the same. Drifting away from the topic demeans the quality of content and should be avoided at all costs. 
3. How to Learn Content Writing?
There are several ways in which you can learn content writing. Some methods will yield better results than others. Let us explore some of the trendiest forms of learning content writing in the modern-days:
1. Join an Online Course
If you feel you have the potential to write and also possess the talent for writing grammatically sound pieces, you can join an online content writing course. There are several online courses for learning content writing. The most crucial things to remember while choosing a suitable course are affordability, reputation, and quality. Check all of these before you join a course. If possible, always opt for a demo class before joining a course. It will give you a good insight into the course.
2. Learn from an Expert
You can choose any reputed content writer as your mentor and learn content writing under their guidance. This method only works if you regularly connect with such content writers. It is a great way to learn about writing, how the content writing industry operates, and how you can thrive in the industry. You can read some of the articles or blogs they have written and learn from them. You can even assist them in the first few days, just observing their work pattern. If you can get a genuine mentor, this is probably the best process.
3. Join an Internship
A content writing internship may be ideal for people with some idea about content writing but without work experience. Just like an internship for any other job, you will get practical hands-on experience in content writing. During your internship journey, you can learn more about industry standards, SEO techniques, ways to incorporate keywords, and all such valuable things that are impossible to learn from any theoretical guides. Often interns get paid less or sometimes nothing for the job. But the practical work experience you gain from a content writing internship can add value to your portfolio and escalate your worth as a content writer. 
You can step into the industry even without any of these, but in that case, your journey will not be smooth. It is always better to gain experience and knowledge before you can work as a content writer for some company. The best of these three approaches is joining a content writing course. 
4. Learn Content Writing With Us
Join our content writing learning courses to become a successful content writer. As already discussed, not everyone can become a good content writer. Learn about the X-factor that can distinguish you from the others in the crowd. Know about the minute details of content writing, types of content writing that can fetch you money, and most importantly, the hidden secrets and tricks to make your writing better that no one will share with you. Gain knowledge from experienced industry experts and give your writing a new dimension of professionalism. Revolutionize your writing to become a reputed content writer with our affordable content writing courses.
Related articles
9 Types of Content Writing Jobs
How to start content writing freelancing
John is a Digital Marketing Trainer and Blogger and YouTube creator with 5+ years work experience in digital marketing field. He is the founder of Digital Badi.
AI writer vs Human writer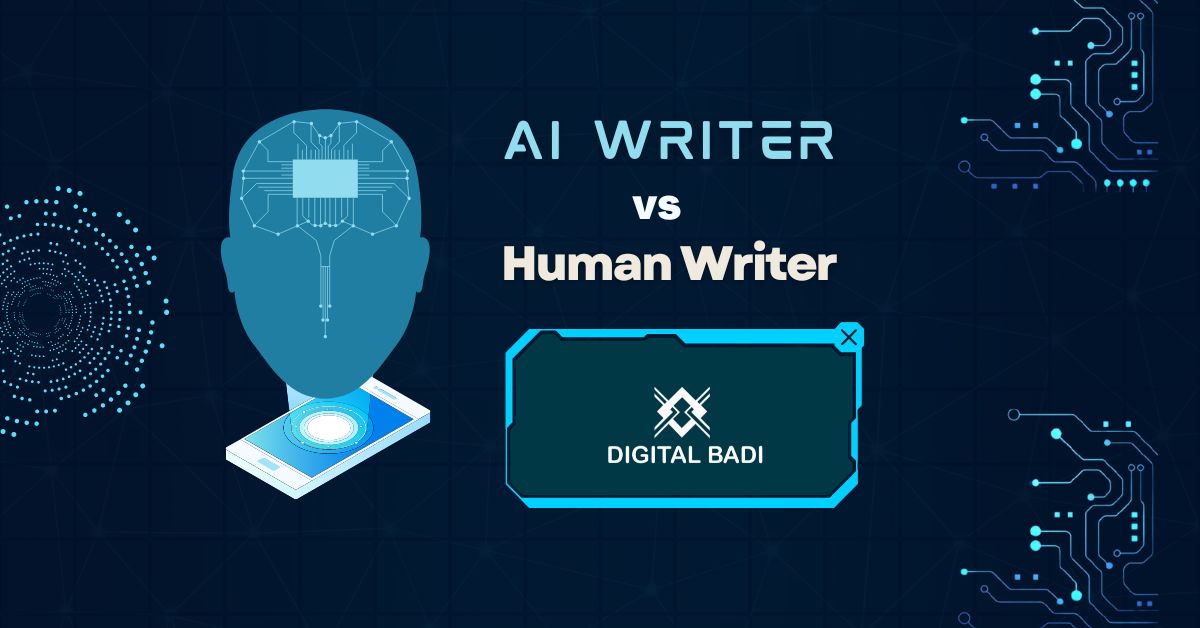 1. AI writer vs Human writer
It is common knowledge that Artificial intelligence, or AI, is used today in almost every industry. So, it does not come as a surprise that this technology is today being widely used in content writing. Many brands have started resorting to AI tools to churn out different types of content. Since these businesses need to generate content continuously the year round, they are finding AI a practical solution to perform the never-ending writing tasks faster and cheaper.
But the big question in everyone's minds is – is this the end for human writers? Before arriving at a hasty conclusion, let us examine this development in more detail.
2. What can AI tools be used for in content writing?
AI tools have a variety of uses in content writing. They are used for generating new content ideas for blogs and other articles. The tools are even used for creating short-form content, such as website content, slogans, or ad copies. Additionally, some businesses use them to summarize their long content into short ones and even for generating titles or headings. They can serve the purpose of rephrasing and rewriting content. You can even SEO-optimize your content using some AI tools.
3. How do AI writing tools work?
AI writing tools are mostly built around the concept of deep learning. The engineers developing these tools feed their system with data, set some initial parameters, and then just allow the tool to form its own algorithms. These algorithms are beyond the scope of human beings to comprehend or conceive. The programmers train the algorithm on how the natural language works by feeding it data in the form of billions of words and different types of content.
Of all the text generators powered by AI, GPT-3 is the most advanced, which has been programmed to draw from huge data sets, including sources like Wikipedia and millions of books. However, the truth is that even an advanced tool like GPT-3 has been found to have many faults.
So, let us now examine a few of the major drawbacks AI writing tools have:
4. Shortcomings of AI writers
Even though several people are using AI writers for their content, the truth is that the write-ups that these AI tools generate are far from perfect. In fact, many issues have been identified by writing experts.
1. Lack of flow and Haphazard structure
This is one of the most obvious issues of AI write-ups. Sometimes after a few sentences, the content may just fall apart. In many portions, the content spun by AI tools appears to be a group of totally different ideas joined with no relation to each other.
2. Lack emotion
When compared to humans, AI writings clearly lack emotion and relatability. The content AI writers generate can be too simplistic and devoid of human emotions or feelings. It is evident that only humans can write content that is creative, relatable, personal, and engaging.
3. Need Human supervision
Only humans can think creatively and write content that will touch the emotional chord of the readers. AI tools can only rewrite or analyze existing content. These tools need a human hand for guidance and supervision.
4. Not Comprehensible Sometimes
Though AI writers can write on various topics, sometimes the content they generate can be weird and funny. This happens especially when you give specific inputs that it is not able to interpret correctly like a human
5. What impact can Google's new update have?
Here are some questions you need to answer to evaluate what kind of content you are currently generating:
Would your website or business's existing or intended audience find your content valuable if they approached you directly?
Is your content displaying expertise and deep knowledge? For example, the expertise from the experience of having actually used a product or service.
Is your website focused on a specific mission or purpose?
Will your readers learn something useful from your content that will help them attain their goals?
Do you feel your readers will derive satisfaction from reading your content?
If you answer yes to these questions, then you are using the right approach while generating content.
Here are some more questions below that you need to answer honestly.
Is the main purpose of the content you post to draw more people from search engines, or is it meant to be helpful for your readers?
Do you constantly post lots of content on various topics to increase your website's performance in search engine results?
Do you use automated writing tools to generate content on several topics quickly?
Does your content only repeat or summarize what others have already written about without creating additional value?
Do you only write for the reason that some topics are trending?
Does your content satisfy your readers, or do they again have to surf the internet for more information on the topic?
Do you write keeping a certain word count as the target since you assume that Google prefers a certain word count?
Have you been writing on a niche topic without having much knowledge only because you wanted to attract more traffic?
Do you often make promises of knowing the right answer to attracting readers, knowing that there is actually no answer to the question?
If your answer is yes to the above, it indicates a red flag showing that you need to change your content-writing approach.
Remember that after its new update, if Google finds out your content is only SEO-friendly but not helpful for readers, your rankings are sure to go for a toss.
6. What does the future foretell for AI writers and human writers?
Though you cannot rule out the role of AI tools completely in content writing, it is definitely not the end of the road for human writers. Due to their amazing multitasking abilities, AI tools can perform the supporting role of skilled assistants, helping you with repetitive tasks like generating keywords or headings. However, AI writers can never replicate how humans think, create, and process language to write content that is enriched with emotions.
No AI tool, however advanced its algorithm or programming, can match the refreshing, personal, and emotional content that humans can generate.
AI tools are helpful if you want to save time or reduce your workload, but it would not be wise to depend on them entirely. In sum, AI tools have a long way to go if they are to replace human writers.
Want to become a professional human writer? check our professional content writing course
John is a Digital Marketing Trainer and Blogger and YouTube creator with 5+ years work experience in digital marketing field. He is the founder of Digital Badi.
Types of Content Writing Jobs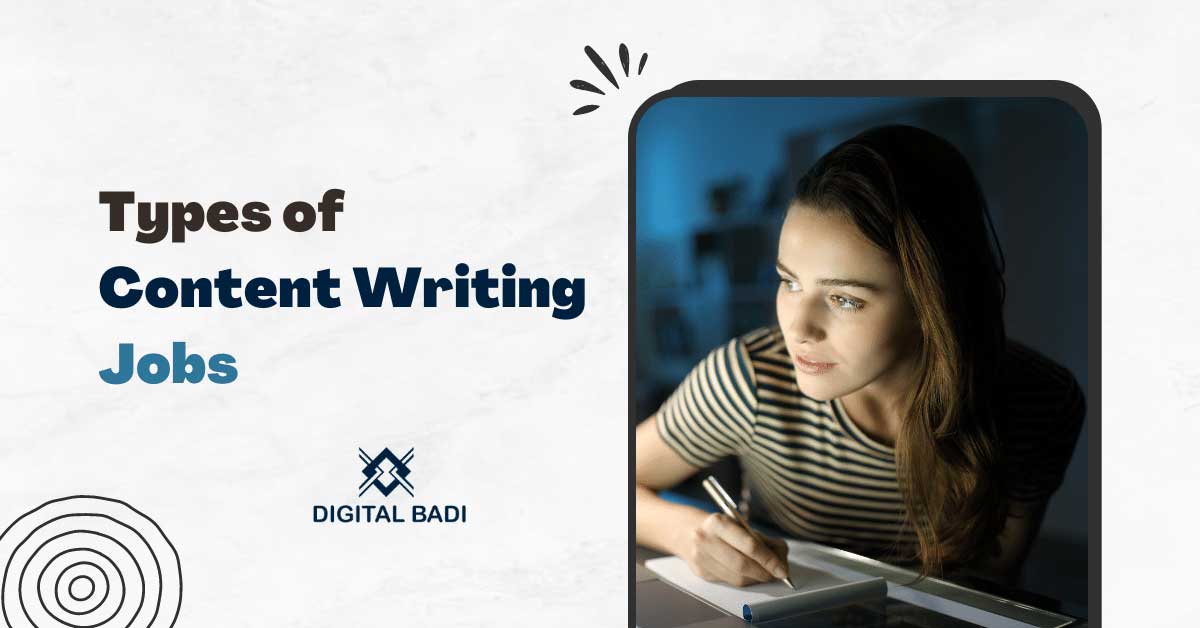 Build your career online with content writing. You must have heard this tagline millions of times, but if you are one of those who have not yet explored the actual world of content writing and its potential to generate jobs, here is all you need to know about types of content writing jobs.
Content writing is emerging as one of the highest-paying and most prospective career options for billions of freelancers across the globe. Content writing services are always in demand. You can write quality content for brands and websites and make money. However, there are two sides to the story – first is that you think this must be an easy and straightforward task. Secondly, the biggest twist lies in looking for reliable clients who will pay you on time and acknowledge your effort and hard work.
1. Who is a Content Writer?
A content writer is a professional creative writer who writes several types of content pieces for brands and websites. The purpose of writing content can vary just as the types of writing. It can be anything – blogs, sales copies, social media infographics, or informative articles. The goal remains almost the same – to help in a brand's online marketing. The idea of hiring a content writer is to get better and more structured content written to connect with the target audience.
Content writers have multiple specialties. Some may be experts on unique niches, whereas some may have talent in framing particular content types. It all depends on your skill and interest. In the end, it is the quality of the content that matters. Content is the king, and how well you can deliver the central theme to entice the audience will mark your success as a content writer.
2. Content Writer – Job Description
If you enquire 100 content writers, you will probably get at least 60 different job descriptions about what role they play as content writers. The critical task, however, remains the same. That is to write appealing content that will engage the audience and generate leads. If we broadly generalize the job of a content writer, there are three fundamental duties that almost all content writers have to perform, irrespective of the variations involved. First, let us have a close look at it:
Researching for ideas is one of the most crucial tasks of a content writer. Often the SEO team helps the writer, but it is mostly the content writer who figures out the topic for writing. 

If the client has already specified the topic and the guideline, then the content writer's job will be to develop the idea better and elaborate on what the client has mentioned. For example, one pro tip for becoming a good content writer is always sticking to the guidelines as much as possible and avoiding drifting. Do not change the topic; just elaborate on it and develop the same in the best possible way.

If it is a sales copy or purely intended for marketing, it is advisable always to have the business profit pitch in mind. Your writing needs to have the power to convince potential customers.

The next most critical work of the content writer is delivering accurate and flawless content. There should not be any grammatical errors because grammar issues are a big no for any valuable content. The spelling should be correct, and most importantly, the content should be well-structured. A natural flow should tie the content together like beads on a string. 

Do you know the real purpose of your writing the content? To rank higher up on the Search Engine results. Yes, you got that right. Your clients will pay you higher when you can write well-structured search-engine-optimized content. This includes the correct use of keywords and other factors.
3. More About Content Writing
Now that you have clearly understood the basics of content writing, let us dive a bit deeper. Content writing jobs are available in plenty. But the question is, which one is the best suited for you or, rather, which is your type of job? Content writing is a stream of jobs that hosts plenty of variations. 
Multiple business houses are looking for content writers for their brands, and several website owners want you to write blogs for their pages. Also, some e-commerce brands would hire you to write compelling copies for their products. It all depends on what you want to do and which is the field where you can give your best. 
Various Types of Content Writing Jobs that are always in demand are:
4. Types of Content Writing Jobs
Web Copy Writing

Blog Post Writing

Digital Ad Writing

Social Media Copy Writing

Product Description Writing

Email Writing

Academic Writing

Ghost Writing

Video Script Writing
5. Is Content Writing a Good Career Option?
Yes, it is. Content writing is an excellent career option. There is tremendous scope for growth and development in the career. Content writers are always in demand, and there are plenty of opportunities to earn and prove yourself in the field. You can improvise your skill sets and expect better pay and gradual professional development. If you can get along with the clients well, you can have a secure future and fantastic personal growth opportunities as a freelancer.
Here are some of the steps to follow to become a Content Writer:
Identify whether you have a passion for writing or not

Improve your English and grammar skills by paying more attention to basic sentence constructions

Gain experience (even if it does not pay you much in the beginning)

Associate with an SEO Agency or Marketing Agency that will provide you with regular tasks and connect with some valuable clients

You can also practice freelancing. This route will take more time to get established but is rewarding if pursued correctly. 
To end the discussion, you must know that content writing is a competitive field, and you need to constantly upgrade your skills to stay with the evolving trends. 
Digital Badi launched the best content writing course to make you professional content writer. Reach us for details.
John is a Digital Marketing Trainer and Blogger and YouTube creator with 5+ years work experience in digital marketing field. He is the founder of Digital Badi.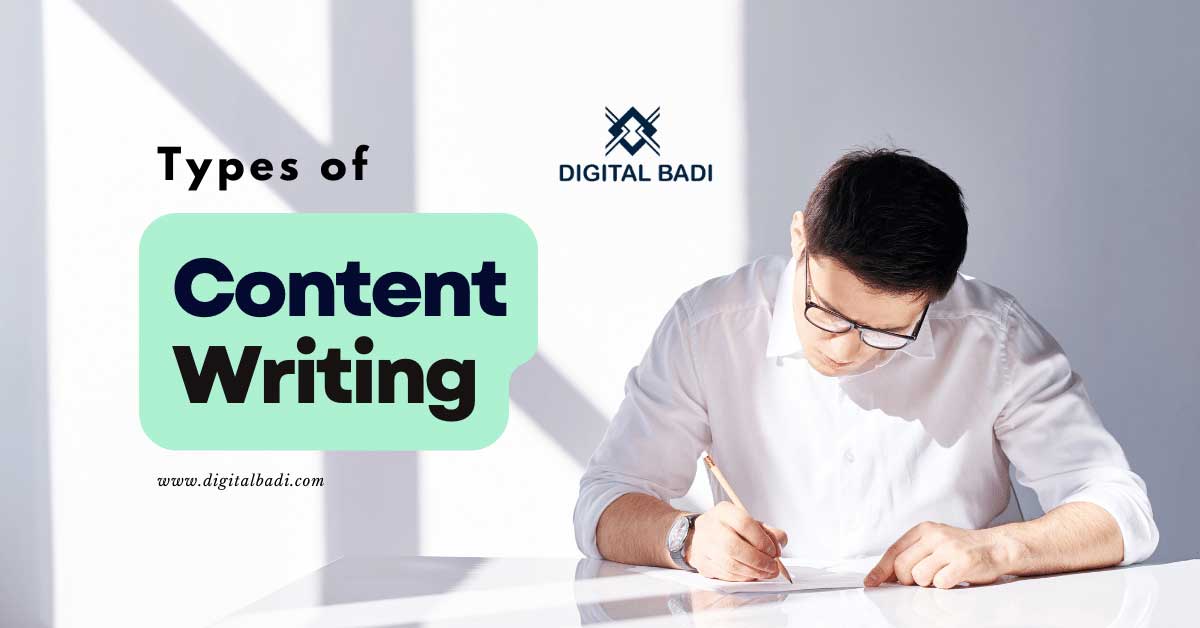 Content has become the essence or success meter of any organization's marketing. Content writing is an essential component of marketing. You cannot do effective marketing without creative and engaging content. It is content that helps you communicate with your audience and generate leads that can be converted to sales. There are many forms of content writing, such as blogging, copywriting, social media posts, email writing, long-form content, and more. Let us look at 5 types of content writing in more detail.
Customers notice your product today not just because of its distinctive look but also its attractive content. Content is influencing them to become your customers. If you recall, Paper boat is one example that has excelled in copies of its product. They are witty, smart, and engage you and want you to read about all other juice flavors!
Content marketing plays a critical role, and here are its three main objectives:
Attracting new customers, 

Converting them into buyers or subscribers, and 

Retaining them as existing customers
Businesses can use different types of content writing to attract, nurture, and convert prospects, resulting in increased sales and profits.
Each of the various branches of content writing is intended to lead the customer down the sales funnel:
Informing, educating, and entertaining visitors at the top of the funnel.

The middle "consideration" stage of the buyer's journey corresponds with the middle-of-funnel (MoFu) marketing approach.

Successfully encouraging leads to make a purchase is known as the bottom of the funnel (BOFU).
Types of content writing
Here are different forms of content writing that companies use today for their brand promotion:
1. Blogging
A blog is an article published in a website's blog section. Typically, a blog post covers a specific topic and is educational in nature. It can be around 600 to 2000 words, sometimes even containing images, videos, charts, or infographics. You can publish stories, insights, and thoughts on specific topics through blogs. Such writings help you attract more traffic to your website. Blogs are excellent tools to boost brand awareness, conversions, and revenue.
2. Social Media Content Writing
The term "social media marketing" refers to the process of producing and distributing content for use on various social media platforms for marketing purposes. Writing on social media necessitates creating fresh content and adapting it to the needs of each channel and algorithm. Sooner or later, your presence on social media is going to generate leads for you.
3. CopyWriting
Copywriting is the art of producing content for marketing reasons. Copywriters are highly creative individuals who focus on creating content for websites, banner text, jingles, ads, and sales copy, among other things.
Copywriting is the art of converting the brief into catchy and enduring pieces of content that engage people everywhere.
4. Ads and Promotion Writing
A writer for advertisements and promotions understands how to make the most of valuable space in any content they provide. With character limits, engaging messages becomes challenging. However, you can achieve the same with the right training in content writing. The call to action is prominently displayed and is intended to improve awareness and generate conversions.
Once you know what you want to achieve from the ads, writing ad copy becomes interesting, fun, and one of the most rewarding types of content writing.
5. Script Writing
In multimedia projects, screenwriters are critical team players. They provide storytelling expertise while following the messaging plan. Screenwriters envision how the words written on a page will one day be presented in more complex formats like videos and podcasts.
The screenwriter writes for explanatory videos as well as short telefilms and Bollywood films. They combine quick-motion graphics with brief one-liners on the product's features and benefits. They conduct necessary interviews and gain powerful brand experience thanks to customer story videos. When your chosen screenwriter quickly grasps the big picture of your content strategy, you'll know you've made the right choice.
Conclusion
By now, you must be fully aware of how a content writer works and what strategies and skills are required for this profession. To polish your talent and enhance your writing skills, you can head to the platform of "Digital Badi." They help you to clarify your thinking process and improve your writing abilities. Attend their free seminars and kickstart your career as a content writer.

We have a 3-week content writing course where we help the writers learn 3 forms of content writing: social media posts & ad copy, blogs, and website content. Over these 3 weeks, the participant shall learn slowly and steadily the different aspects of content writing.

We very well understand how critical content writing is. Hence we offer breakout rooms where every writer meets a content expert who provides feedback on the assignments submitted by the students.
John is a Digital Marketing Trainer and Blogger and YouTube creator with 5+ years work experience in digital marketing field. He is the founder of Digital Badi.