What is Search Engine Optimization (SEO) and Why Does it Matter?
What is Search Engine Optimization(SEO)
Hey friends! John here, Digital Marketing guru and founder of Digital Badi. Today I want to talk about an important topic that can make or break your online business – search engine optimization, or SEO for short.
What is Search engine optimization: the process of making your site better for search engines. Also the job title of a person who does this for a living: We just hired a new SEO to improve our presence on the web.
You've probably heard the term SEO thrown around before, but what exactly does it mean? And why should you care about it if you have a website or blog? Well, stick with me over the next few minutes and I'll explain everything in simple terms!
A Quick SEO Definition
SEO is the process of optimizing your website and content so it ranks higher and appears more frequently in search engine results. The higher up your website appears for keywords and phrases related to your business, the more likely you are to be found by potential customers and drive traffic to your site.
So in simple terms, SEO helps get your website found easier on Google, Bing, or whatever search engine people use to find your products or services.
Why SEO Matters to Your Business
Now you might be wondering why SEO is such a big deal. Can't people just find my website if they type in the URL or click on an ad?
Well, the reality is most people don't search that way anymore. In fact, studies show that close to 90% of online experiences begin with a search engine like Google.
When someone wants to find a business, service, or product online, they start by searching related keywords on Google. If your website doesn't come up on that critical first page of results, you may be missing out on tons of potential customers.
Think about the last time you searched for something online. Did you click beyond the first page or two of results? Most people don't. So SEO helps make sure your business is visible and accessible to people who are actively looking for what you offer.
It's all about visibility and discoverability. SEO allows search engines to better understand your website and rank it accordingly so the right people can find you.
How Search Engines Evaluate and Rank Websites
Now that you know why SEO is critical, let's talk about how it actually works. How do search engines decide which websites should rank first, second, third and so on for a given search?
While search engine algorithms are complicated (and top secret!), we do know some basic factors that influence rankings:
Page content – Pages with relevant, useful, well-written content tend to rank higher. Search engines want to point users to authoritative sources that directly answer their query.
Keywords – Using relevant keywords related to your business naturally throughout your pages helps search engines understand your content focus.
Backlinks – Quality sites linking back to your pages with anchor text helps send "votes" that your content is worthwhile.
Site optimization – Technical aspects like site speed, mobile optimization, proper HTML tags and site architecture help search bots crawl and index your site.
User engagement – Metrics like bounce rate, time on site and others indicate whether real humans find your pages helpful. Greater engagement improves rankings.
There are over 200 total ranking factors, but no need to get overwhelmed! Focus on creating high quality content, user experience, and basic technical SEO and you'll be off to a great start.
Core SEO Strategies to Boost Your Rankings
Now let's get into some actionable tips and strategies to optimize your site for higher rankings and visibility. While SEO can get complicated fast, I'm going to focus on three key areas that typically give the best return on time and effort:
1. Target Important Keywords
The first step is researching and selecting relevant target keywords and phrases for your business to optimize around. These should be terms and questions your ideal customers are searching that relate directly to your products, services and content focus.
Some best practices here:
Brainstorm a list of keyword ideas and search volume using Google's keyword planner. Look for high traffic searches with medium/low competition.
Prioritize keywords that relate to purchasing intent like "buy X", "X reviews", "[city] X service".
Include long tail variations like "how to use X", "X benefits", etc.
Use keyword research tools like SEMrush, Ahrefs or Moz for advanced analysis.
Track keywords driving existing traffic and conversions in Google Analytics.
Focus your SEO efforts on 5-20 primary keywords, while also optimizing for dozens of secondary long tails. Adding keyword targeting improves discoverability.
2. Create Awesome Content
The next step is creating remarkable website content optimized for your target keywords. Compelling content builds trust, improves conversions and also ranks well in search.
Some tips for keyword-focused content creation:
Write long form, in-depth articles targeting primary keywords – aim for 2000+ words of helpful info.
Include related keywords naturally throughout content, but don't over-optimize. Strive for 1-3% keyword density.
Create tons of useful content – blog posts, guides, videos, tools – optimized around secondary long tail keyphrases.
Focus on readability – use headings, lists, images and white space for scannability.
Answer common questions, objections and searches your audience has around keywords.
Embed keywords in key places like titles, URLs, image names and opening paragraphs.
Awesome content that really speaks to your audience and directly addresses their interests around your keywords is a huge SEO win.
3. Build Authoritative Backlinks
The final piece of the puzzle is acquiring credible external sites linking back to your content with contextually relevant anchor text. This helps search engines validate your expertise and shows you offer valuable info worth linking to.
Some backlink building tips:
Create resources like blogs, guides, tools and datasets that other sites would naturally link to.
Reach out to industry websites and blogs to see if they'll link to your content if it's useful to their audience.
Promote your best content on social media sites like LinkedIn, Facebook Groups and Twitter to drive engagement.
Guest post on reputable sites in your industry – offer value to their audience while including a relevant backlink.
Focus on getting editorial links – natural mentions from other sites. Avoid low quality networks.
Link internally between important pages and content on your own site.
Backlinks remain one of the strongest ranking factors. So build them steadily over time to improve authority and rankings.
Tracking SEO Performance with Key Metrics
Once you implement your core SEO strategy, you'll want to track how your efforts impact performance. Use these key metrics to measure your progress:
Rank Tracking – Monitor rankings in Google for your target keywords. Are you moving up in rankings over time?
Organic Traffic – Analyze Google Analytics to see if organic search traffic is increasing. More keywords ranking higher = more SEO traffic.
Conversions – Watch goals like email subscribers, downloads and purchases from organic search. More SEO traffic should drive more conversions.
Click Through Rate – Click through rate (CTR) measures how enticing your snippets are in search results. Higher CTRs tend to improve rankings.
Page Authority – Page authority metrics like Moz's DA score or Ahref's URL Rating show if your overall authority is growing.
SEO is an ongoing process. Continuously optimize pages and monitor analytics to see the impact over time.
The Never-Ending Journey of SEO Success
Phew, that was quite an info dump on all things SEO! The important thing to remember is that SEO is a marathon, not a sprint. It takes consistent work over an extended time to see big results.
But the long term payoff is worth it. By showing up prominently when people search for your products, services and keywords, you can:
Reach way more of your target customers
Drive higher quality visitors ready to take action
Continuously grow awareness and visibility
Deliver a better return on investment than paid ads
So be patient, stick with it, and keep optimizing! Focus on creating remarkable content, improving technical site factors, and building authoritative backlinks over time.
SEO has the potential to transform your online business and be a key driver behind your success. Hopefully this post provided a helpful overview of what SEO is, how it works, key optimization strategies, and metrics to track.
If you have any other questions feel free to reach out! I'm always happy to chat more about the wonderful world of SEO.
Now get out there and start improving your site's rankings and visibility today! The opportunities are endless with great SEO.
If You are Looking for Best Digital Marketing Training Institute in Hyderabad.
Digital offers Best Digital Marketing Course in Telugu and English Languages.
John is a Digital Marketing Trainer and Blogger and YouTube creator with 5+ years work experience in digital marketing field. He is the founder of Digital Badi.
The Booming Scope of Digital Marketing in Hyderabad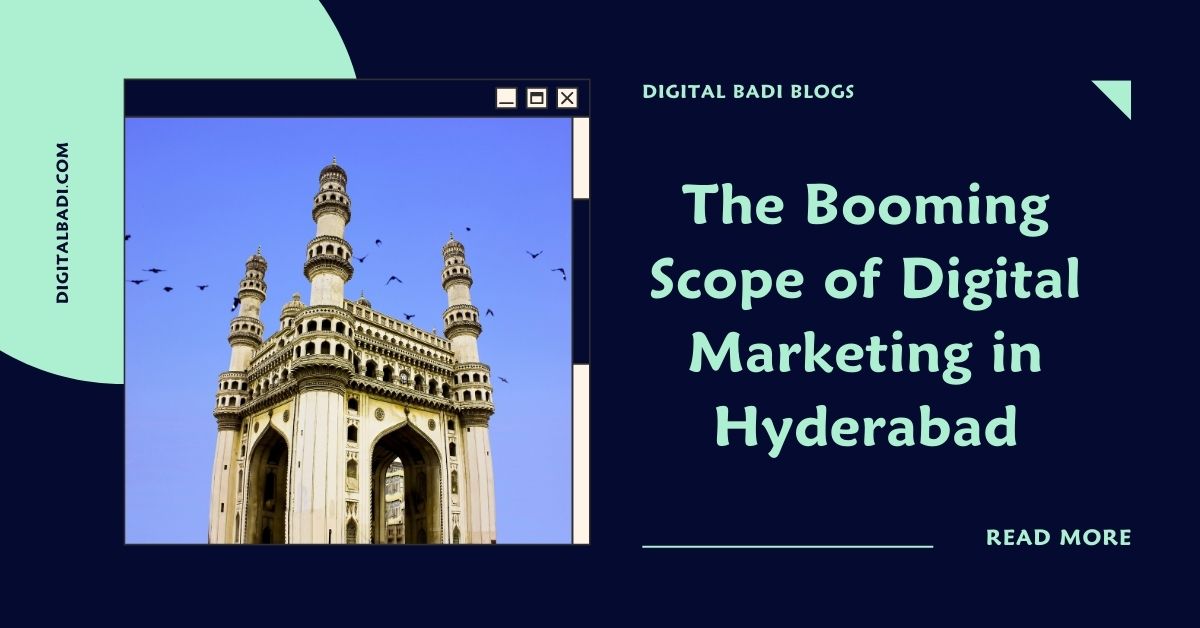 Digital marketing has been growing by leaps and bounds in cities across India, and Hyderabad is no exception. Scope of digital marketing in Hyderabad is huge. No doubt about it. As more and more businesses realize the power of digital marketing for reaching and engaging with their target audience, the demand for skilled digital marketing professionals has skyrocketed in Hyderabad.
As the owner of Digital Badi, a leading digital marketing training institute in Hyderabad, I have witnessed first-hand the tremendous growth in digital marketing jobs and career opportunities in the city. In this blog, I'll give you a in-depth look at why Hyderabad offers such great scope for building a successful career in digital marketing.
An Overview of Digital Marketing in Hyderabad
Hyderabad has established itself as a major IT and startup hub over the past decade. The city is home to companies like Microsoft, Google, Facebook, Amazon and more. In addition, there are thousands of startups operating in the city across various sectors.
Naturally, this thriving entrepreneurial ecosystem has led to a surge in demand for digital marketing skills. Businesses in Hyderabad have realized that digital marketing is essential for reaching their target audience online and driving business growth.
The most in-demand digital marketing skills in Hyderabad are:
Whether you are looking for a job at a company or agency, or want to offer digital marketing services as a freelancer, there are ample opportunities available in Hyderabad.
Salaries for digital marketing professionals have also increased substantially over the past few years. The average salary for a digital marketer in Hyderabad is ₹5-7 lakhs per annum. With some experience under your belt, you can expect to earn ₹10 lakhs or more per year.
Why is Digital Marketing Booming in Hyderabad?
There are several factors that have led to the rapid growth of digital marketing jobs and careers in Hyderabad:
1. Thriving Startup Ecosystem
Hyderabad has established itself as the startup capital of India. The city has the third highest number of startups in India after Bangalore and Mumbai. These young companies are more receptive to leveraging digital marketing for getting traffic, generating leads and boosting sales.
Startups in Hyderabad are on the lookout for digital marketers who can help them with right from market research & planning to executing campaigns across channels like social media, SEO, PPC, and mobile. This creates ample job opportunities for digital marketing professionals in the city.
2. Presence of IT/Tech Companies
As mentioned earlier, Hyderabad has emerged as a major IT hub with offices of leading technology companies like Google, Facebook, Microsoft etc. These companies have an in-house marketing team with several digital marketing roles.
Technology companies also often work with digital marketing agencies for managing aspects like search, social media marketing and online reputation management. Professionals with the right skills can build a successful digital marketing career working with tech clients.
3. Government Initiatives
The Telangana government has launched various initiatives like T-Hub, WE Hub, TWorks etc. for boosting the startup ecosystem. The government has also partnered with Google to provide digital marketing training to youth and entrepreneurs.
Such initiatives that promote digital adoption among businesses also indirectly fuel the demand for digital marketing professionals and create more job opportunities in this field.
4. Digital Transformation of Businesses
From small businesses to large enterprises, companies across sectors in Hyderabad are embracing digital – launching websites, selling online, advertising on digital platforms and more. Even traditional businesses like real estate, healthcare, education institutes are now leveraging digital marketing.
This growing digital adoption by enterprises in Hyderabad is contributing to the rising demand for digital marketers. Businesses want dedicated digital marketing talent to help them formulate strategies, manage campaigns, track performance and generate ROI.
5. Availability of Training & Talent
Hyderabad has quality training institutes like Digital Badi that provide specialized training programs in digital marketing. Local colleges are also incorporating digital marketing subjects into their management and IT curriculums. This is helping produce qualified talent to meet the industry demand.
Besides, many professionals in fields like marketing, advertising, IT and MBA switch to digital marketing roles, given better prospects. The availability of such skilled talent in Hyderabad makes it easier for companies to fulfill their digital marketing requirements.
Lucrative Career Options in Digital Marketing
The massive demand for digital marketing skills in Hyderabad has opened up many lucrative career opportunities for professionals in this field. Let's look at the top digital marketing job roles you can pursue:
Digital Marketing Manager
As a digital marketing manager, you will be responsible for developing strategies to boost brand awareness, traffic, leads and sales. You will also oversee the end-to-end execution of digital marketing campaigns across various channels.
In a startup, the digital marketing manager may be a one-man army managing everything. In bigger companies, you may supervise a team of specialists for different functions like SEO, Social media, Email marketing etc.
SEO Specialist: Scope of digital marketing in Hyderabad
SEO (Search Engine Optimization) specialists help businesses improve their visibility on search engines like Google and Bing. Your job will involve doing keyword research, optimizing website content, fixing technical issues on site, building high quality backlinks and tracking rankings.
As an SEO expert in Hyderabad, you can work with digital marketing agencies or as an independent consultant.
Social Media Marketing Expert
Every brand today wants to leverage platforms like Facebook, Instagram, Twitter, YouTube and LinkedIn to reach and engage with their audience. As a social media marketing pro, your job will be to create engaging content for social media, run paid campaigns, track performance, manage online reviews and more.
From devising content strategies to analyzing data, social media marketing involves a variety of roles you can specialize in.
PPC Specialist
PPC refers to Pay Per Click advertising on search engines and social media platforms. As a PPC expert, your core responsibility will be managing PPC campaigns end-to-end – from keyword research to creating ads to tracking conversion.
You will be expected to optimize campaigns to maximize clicks and minimize cost per click. This is a purely data driven role ideal for those who love analytics.
Digital Marketing Content Creator
Great content remains at the core of successful digital marketing. As a content specialist, you will be creating well-researched and high quality content assets like articles, whitepapers, ebooks, videos, infographics, guides, presentations and more.
Based on your skills and interests, you can create content for specific mediums – like writing for blogs, making videos, designing visual assets etc.
Web Analyst
Digital marketing campaigns result in tons of data related to website traffic, leads, sales, costs and so on. Web analysts use tools like Google Analytics to extract actionable insights from such data to inform business decisions and optimize digital marketing efforts.
Strong analytical skills and knowledge of data analytics tools are must-haves for succeeding in this role.
The above are just some of the high demand digital marketing roles available in Hyderabad. Some other profiles you can consider include email marketing specialist, marketing automation expert, digital media planner, web designer and more.
Salary Trends for Digital Marketing Jobs in Hyderabad
The rising demand for qualified digital marketing professionals in Hyderabad has led to very attractive salary packages for roles in this field.
Here's a look at the typical salary range for top digital marketing job profiles in Hyderabad:
Digital Marketing Manager: ₹5 – 12 lakhs per annum
SEO Specialist: ₹4 – 8 lakhs per annum
Social Media Marketing Expert: ₹4 – 10 lakhs per annum
PPC Specialist: ₹4.5 – 10 lakhs per annum
Digital Marketing Content Creator: ₹3 – 6 lakhs per annum
Web Analyst: ₹3.5 – 8 lakhs per annum
Salaries in digital marketing depend on several factors like your experience, skills, certifications, company you work with and more. The above figures indicate the average salary ranges, but higher salaries are possible for senior roles and professionals with niche skills.
Overall, a career in digital marketing promises very high income potential provided you build expertise in the right skills.
Top Digital Marketing Skills to Build a Successful Career
To fully leverage the booming digital marketing job market in Hyderabad, make sure to build expertise in the following skills:
Digital Marketing Strategy – Ability to create targeted strategies for clients based on market research and goals.
Search Engine Optimization – Expertise in optimizing websites for higher search engine rankings.
Search Engine Marketing – Experience in PPC advertising and campaign optimization for Google/Bing Ads.
Social Media Marketing – Excellence in crafting engaging social media content and running ads on platforms like Facebook, Instagram etc.
Content Creation – Skills to develop all forms of content – articles, videos, infographics, ebooks etc.
Email Marketing – Understanding of email marketing strategies and experience with email automation platforms.
Web Analytics – Expertise in using tools like Google Analytics to derive actionable insights from data.
Google Certifications – Getting certified by Google in areas like Google Ads, Google Analytics etc. is a huge plus.
Digital Marketing Tools – Proficiency in using popular digital marketing tools and software platforms.
Communication & Presentation Skills – Ability to communicate digital marketing plans and insights effectively to clients.
Project Management Skills – Expertise in collaborating with team members, managing timelines and delivering projects.
By acquiring the above in-demand skills through specialized training, you can establish a successful and lucrative career in digital marketing in a thriving hub like Hyderabad.
How Digital Badi Can Equip You for a Digital Marketing Career
At Digital Badi, our flagship Certificate program is designed to help you master the most sought-after digital marketing skills and become job-ready.
Here's a quick look at how we deliver comprehensive digital marketing training:
Industry Aligned Curriculum – Our curriculum is designed based on the latest digital marketing job requirements and industry standards.
Specialized Modules – You will undergo specialized training in different aspects like search marketing, social media marketing, content marketing, analytics, paid advertising and more.
Live Projects – Get hands-on experience by working on real-world digital marketing projects for brands.
Certification Programs – Option to do certifications like Google Ads, Google Analytics, HubSpot etc. during the program.
Expert Educators – Leading digital marketing experts guide you through interactive instructor-led online sessions.
Job Preparation – Get assistance with resume building, mock interviews and access to recruitment partners.
Flexi Scheduling – Attend sessions as per your convenience during weekdays, weekends or evenings.
The 2 months Digital Marketing Certification program provides end-to-end training required to launch a successful digital marketing career even if you are a complete beginner.
Start Your Digital Marketing Career in Hyderabad Now!
Hyderabad offers a world of opportunities for digital marketing professionals to build expertise, earn attractive salaries and grow their careers.
The demand for qualified digital marketers will continue to surge as more companies adopt digital platforms. There has never been a better time than now to get trained in digital marketing skills and be career ready.
I highly recommend aspiring digital marketers in Hyderabad to enroll in Digital Badi's industry-recognized Certificate program to kickstart their career in this highly rewarding field.
You will acquire in-depth digital marketing knowledge, get hands-on project experience and one-on-one career mentoring from experts. We will equip you with all the right skills and provide placement assistance to help you succeed.
If you have any queries regarding our courses or want to know more about building a digital marketing career in Hyderabad, feel free to contact us. Our education advisors will be happy to guide you.
John is a Digital Marketing Trainer and Blogger and YouTube creator with 5+ years work experience in digital marketing field. He is the founder of Digital Badi.
Best Digital Marketing Trainer in Hyderabad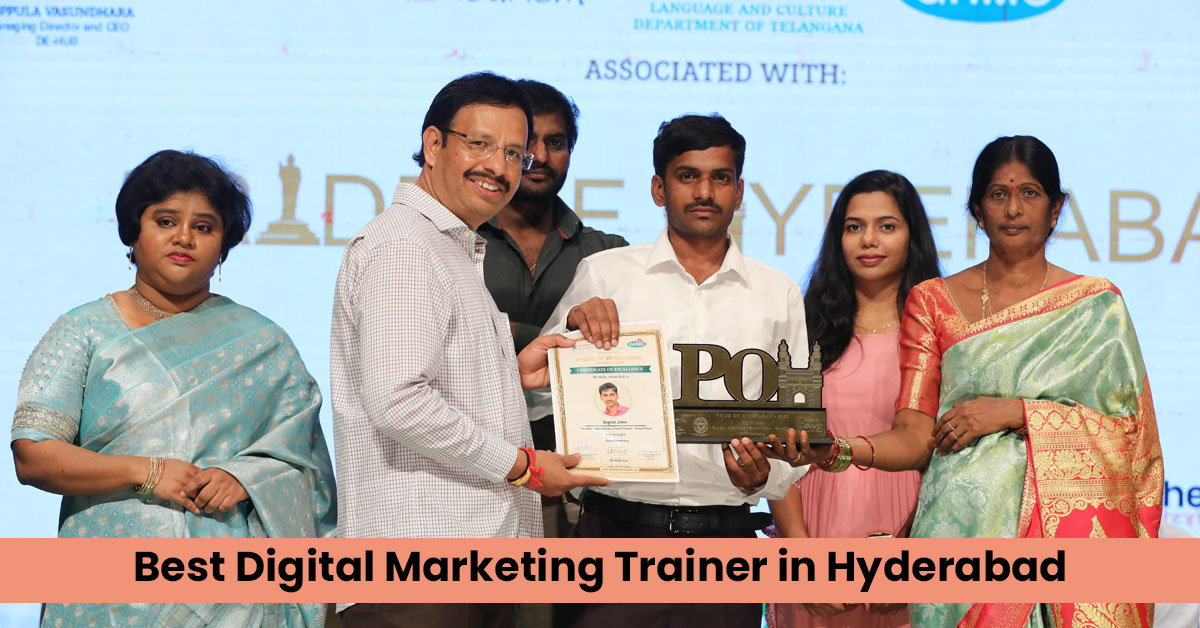 Who is the Best Digital Marketing Trainer in Hyderabad?
If you're looking to launch or grow your career in digital marketing, finding the right trainer in Hyderabad is key. With so many options out there, it can be tough to identify who truly is the best of the best when it comes to digital marketing training.
Well, look no further – because in my humble opinion, I'm Hyderabad's top expert when it comes to digital marketing corporate training. Allow me to introduce myself.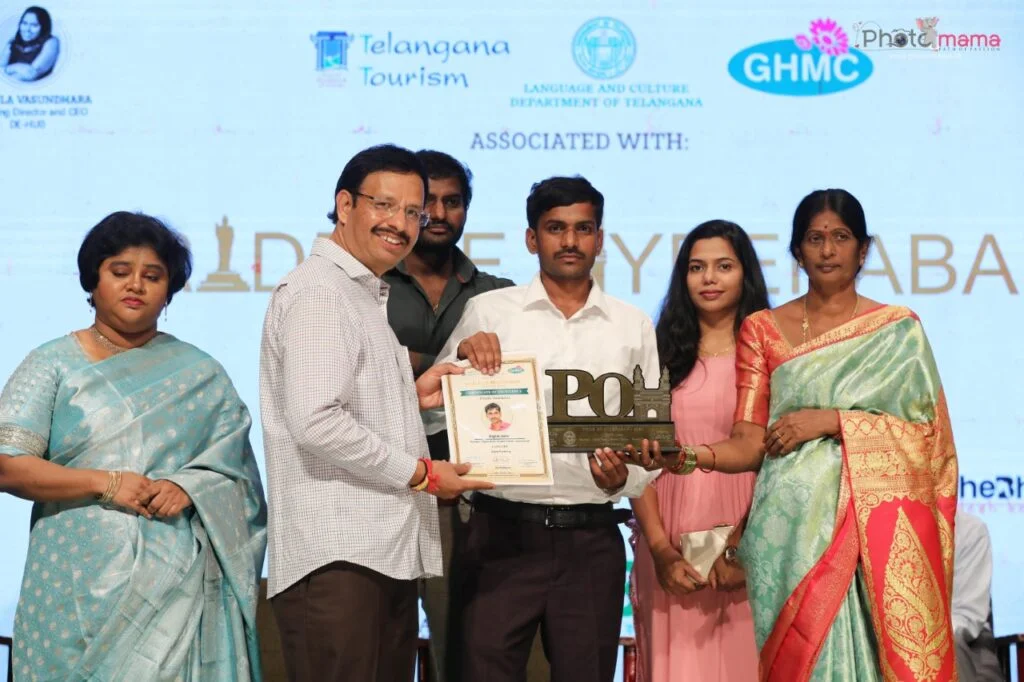 My Name is Digital John – The Leading Digital Marketing Trainer in Hyderabad
Hi there! I'm Digital John, Founder of Digital Badi and a seasoned digital marketing professional with years of experience both practicing and teaching digital marketing. I've been providing specialized digital marketing training here in Hyderabad since 2018.
Over the years, I've trained thousands of students through online and offline courses. My training methodology is hands-on and practical, focused on real-world application over theory. The proof is in the pudding – many of my students have gone on to launch successful careers in digital marketing.
But I'm getting ahead of myself! Let me tell you more about why I believe I'm the cream of the crop when it comes to digital marketing training in Hyderabad.
Why I'm Convinced I'm Hyderabad's #1 Digital Marketing Trainer
I don't say this to brag – but because I'm confident my experience, credentials, teaching methodology, and student results make me uniquely qualified as Hyderabad's top digital marketing trainer.
Here's why I stand out from the competition:
Unmatched Experience & Credentials
5+ years specifically providing digital marketing training here in Hyderabad. That's more specialized experience than most trainers in the city have.
MBA in Marketing from a leading business school, so I have strong foundational knowledge.
2 years experience as a Digital Marketing Manager at a top firm before focusing on training. So I know firsthand what skills matter in the real-world.
40+ digital marketing certifications under my belt and counting, so I'm always upgrading my own skills.
Meta Certified Digital Marketing Trainer – I'm one of the few with this prestigious credential in Hyderabad.
You won't find many other trainers in Hyderabad who can match this level of specialized experience in both digital marketing practice and training. The proof of my expertise is in the results…
Successful Student Outcomes
Like I said earlier, you can judge a digital marketing trainer by the success of their students. And mine speak for themselves:
Hundreds of students have landed digital marketing jobs at top companies here in Hyderabad after taking my training.
Many students have gone the freelancing route and now offer digital marketing services successfully to businesses across India.
I've trained numerous startup founders and existing business owners who have used digital marketing to grow their ventures after taking my courses.
Top firms like GAIL have hired me to provide corporate digital marketing training for their employees.
You don't need to take my word for it either. Here are just a couple of success stories from students:
Digital John Sir helped me to upgrade and took me to the next level. Before completing my course I got an internship offer from one of the MNC and I am so thankful to John sir. If you want to learn digital marketing course in Hyderabad, then consider Digital John
– Sindhuja (Working in Zoho Company now)

What I like about Digital John's teaching style is he doesn't overhype the process. He simplifies it, gives real-life examples. He also gives very clear information on how a particular process creates ripple effect with respect to your brand awareness. Overall, I totally enjoyed my learning experience and I would definitely recommend
– Sahithya Srinivas (CEO, Binge Club)

The proof is out there – just look at the successful careers my past students have built for themselves after taking my training programs. That's the ultimate benchmark for any digital marketing trainer.
Watch few video testimonials
Effective Teaching Methodology
It's not just my credentials and student results that set me apart. My hands-on teaching style and customized course curriculum are a cut above the rest.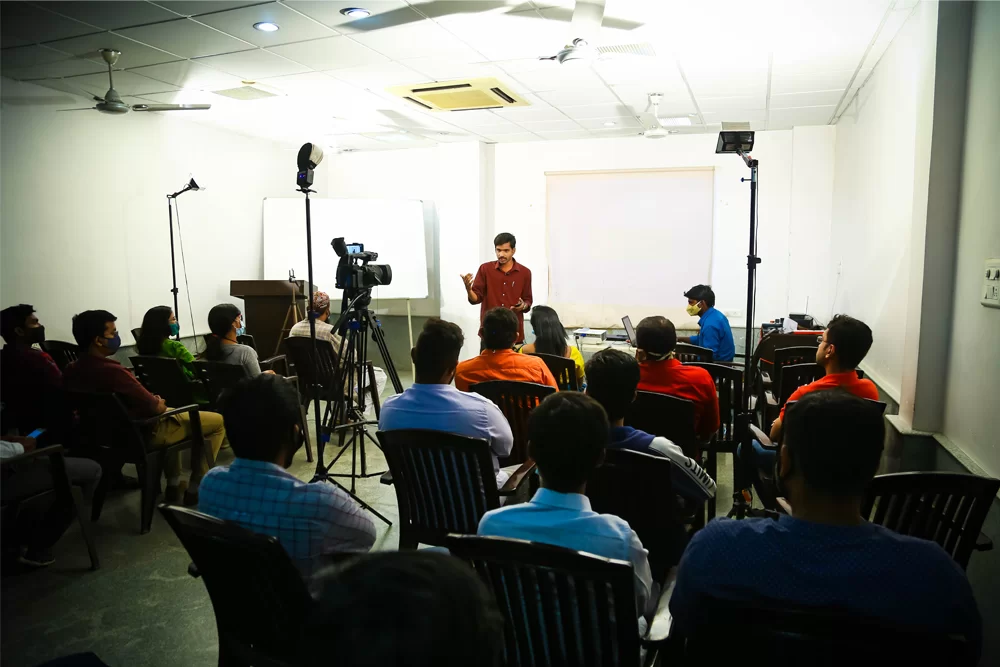 Here are some of my key training methodology strengths:
Practical focus: I emphasize real-world application over theory. Each student works on live digital marketing projects.
Customized curriculum: I tailor course topics to each student's goals and needs.
Up-to-date strategies: I constantly update course content to cover the latest and greatest digital marketing strategies.
Engaging delivery: I incorporate interactive elements like case studies, Q&As, and role playing to bring lessons to life.
Students learn best by doing – so that's my philosophy. Every student gets hands-on experience actually running digital marketing campaigns. This builds tangible skills and also gives them projects to showcase to future employers.
The Digital Marketing Training Topics I Cover
My digital marketing courses cover all the key topics and skills every digital marketer needs to succeed. Here's a quick overview of some of the main areas my training programs dig into:
Search Engine Optimization (SEO)
Keyword research
On-page optimization
Technical SEO
Local SEO
Link building
Pay-Per-Click (PPC) Marketing
Google Ads
Facebook & Instagram Ads
PPC strategy and setup
Bid management
Conversion tracking
Facebook marketing
Instagram marketing
YouTube marketing
Twitter marketing
Content strategy
Blog writing
Video content creation
Podcasting
Google Analytics
Dashboard creation
Goal tracking
A/B testing
Reporting
And Much More!
Conversion rate optimization
SEO copywriting
This comprehensive curriculum covers everything today's digital marketer needs – from hard skills like PPC to soft skills like copywriting.
The exact topics covered depend on each student's specific goals. The training is customized, after all!

Why I'm Your Best Choice for Digital Marketing Training
By this point, I hope I've made a strong case for why I believe I'm the top choice for digital marketing training in Hyderabad and surrounding areas:
Proven experience: 5+ years specifically providing digital marketing training in Hyderabad sets me apart.
Exceptional credentials: Including an MBA in Marketing and over 40 certifications.
Successful students: Many have landed careers or grown businesses after my training.
Customized training: Each student works on real projects tailored to their goals.
Up-to-date strategies: I constantly refine my curriculum to teach the latest tactics.
Engaging delivery: My fun-filled interactive teaching style brings digital marketing to life.
Don't just take my word for it. The proof is out there in the stellar careers past students have built after taking my courses.
If you're looking to launch or advance your career in digital marketing – whether through employment or starting your own agency/business – I'm confident my training can unlock your future.
Awards
I received Vidya Ratna award from Govt of Telangana
I received Pride of Hyderabad Award from Vishwanath Channappa Sajjanar Garu
I received Vande Bharat Award from Govt of Telangana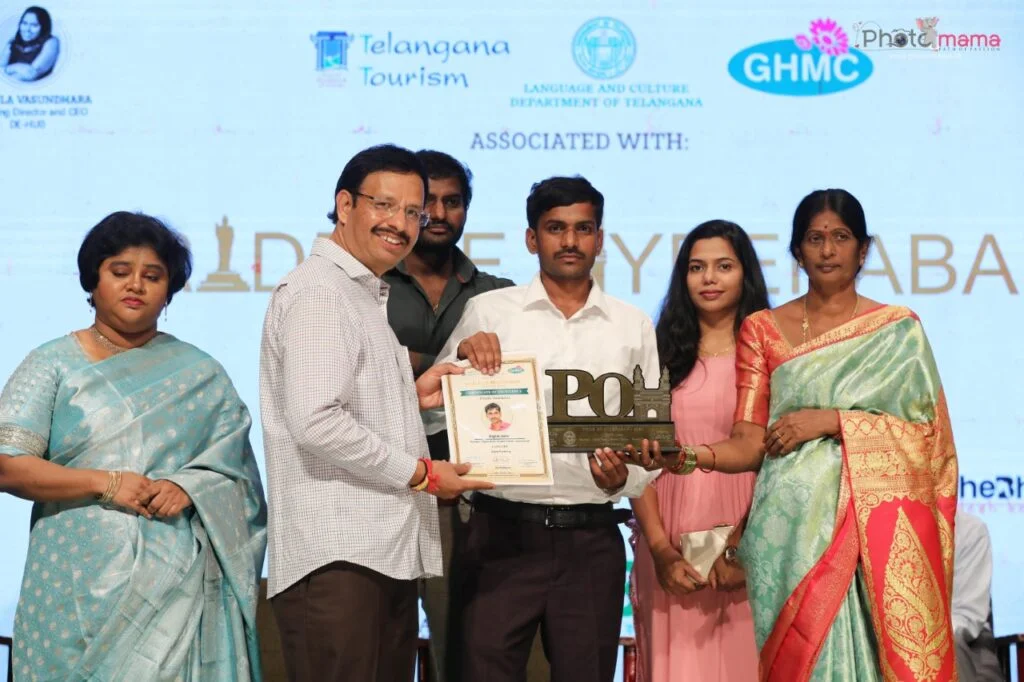 Next Steps to Advance Your Digital Marketing Career
If I've piqued your interest, here are a few next steps to learn more about my digital marketing training:
Browse my website to check out digital marketing course in hyderabad details, curriculum, and student testimonials.
Follow me on Facebook & Instagram to see student success stories and digital marketing tips.
Reach out by phone or email so I can learn more about your career goals and advise the ideal training options. (+91-7702059834 or bairapagajohn@gmail.com)
Check out my YouTube channel for a preview of my digital marketing training style through some free video lessons and tutorials.
I'm thrilled to have the opportunity to help unlock careers for even more digital marketing students and professionals here in Hyderabad. Don't let this opportunity pass you by – take that first step and get in touch today!
John is a Digital Marketing Trainer and Blogger and YouTube creator with 5+ years work experience in digital marketing field. He is the founder of Digital Badi.
What are the Job Opportunities After Completing a Digital Marketing Course?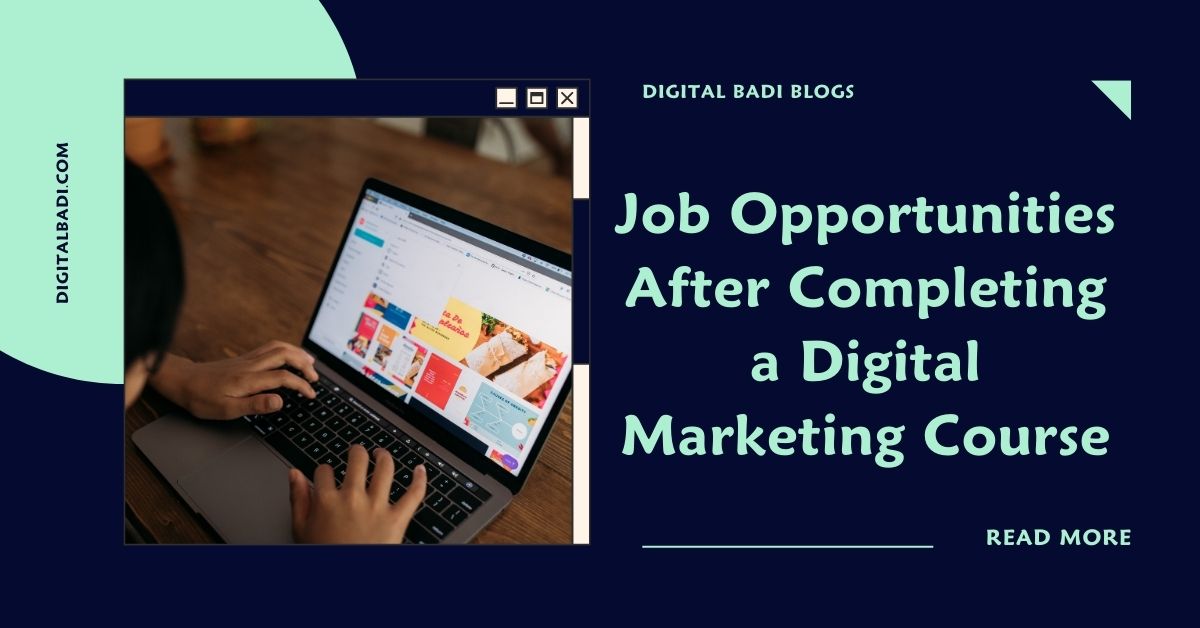 Job Opportunities After Completing Digital Marketing course
Hey everyone! This is John, founder of Digital Badi. In this post, I'll overview the top digital marketing job roles you can pursue after completing our certification course.
With businesses rapidly adopting digital channels, demand for skilled digital marketing professionals is surging. As per LinkedIn's 2022 Emerging Jobs Report, digital marketing jobs have grown over 100% annually in India!
Job opportunities after digital marketing: Because of the high demand, the pay for digital marketing roles is also high. You can get better roles in the organization because of your expertise, which can help you enhance your salary.
Let me give you an idea of the diverse career paths you can take with digital marketing skills:
Digital Marketing Executive/Manager
This is one of the most popular and lucrative roles you can aim for as a digital marketing fresher or professional.
Digital Marketing Executives conceptualize and execute campaigns across channels like SEO, social media, email, PPC ads, content marketing, and more. You get to manage end-to-end strategy and activation.
With 3-5 years of experience, you can progress to a Digital Marketing Manager role with more autonomy and responsibility. Managers oversee a team and digital marketing budgets.
The job involves things like:
Developing integrated digital strategies
Implementing multi-channel campaigns
Tracking KPIs and optimizing based on data
Driving brand awareness, traffic, leads, and sales
Overseeing content production
Managing junior executives and agencies
This role provides the perfect mix of creativity and analytics. You get to brainstorm innovative campaigns and also track ROI.
SEO Executive/Manager
SEO (search engine optimization) is a fast-growing sub-domain within digital marketing.
As an SEO executive or manager, you oversee activities like keyword research, on-page optimization, technical SEO, content creation, link building, and monitoring rankings.
You'll work closely with content and web development teams. The focus is on optimizing websites/apps to improve their visibility and rankings on search engines like Google and Bing.
Social Media Manager
Social platforms are essential in digital marketing plans today. Brands constantly need creative people to manage their social media presence.
As a social media manager, you oversee your brand's social media strategy and presence across platforms like Facebook, Instagram, Twitter, LinkedIn, YouTube, Pinterest etc.
Your role involves creating engaging social content, running campaigns and ads, analyzing performance data, collaborating with influencers, managing communities and more.
PPC Specialist
PPC or Pay Per Click involves running ads on search engines and social media platforms. Skilled PPC specialists are in high demand.
As a PPC expert, you will manage ad campaigns on Google Ads, Bing Ads, Facebook, Instagram etc. This includes things like managing bids, optimizing ads, A/B testing ad creatives, leveraging targeting options, and tracking ROI.
Email Marketing Specialist
Email marketing is still highly effective for customer engagement and retention.
Email marketers handle everything from designing email campaigns, writing compelling content, segmenting audiences, automating workflows, sending blasts, optimizing deliverability, and tracking performance.
This role mixes copywriting skills with data-driven optimization. You get to directly impact metrics like open rates, click rates, conversions, and revenue through email campaigns.
Web/App Analytics Manager
Every website and mobile app requires in-depth analytics to derive user insights.
As a web or app analytics manager, you'll be responsible for tracking key metrics, optimizing user funnels, implementing tagging, segmenting users, visualizing data, identifying trends and opportunities, and driving growth.
Content Marketing Specialist
Content marketing involves creating blogs, articles, guides, videos, and other content formats to attract and retain users.
As a content specialist, you research topics, produce content briefs, write blogs/articles or scripts, promote content across channels, and track content performance. This role requires strong writing skills coupled with data-driven optimization.
Let me also give you an idea of salary ranges based on my industry experience:
Digital Marketing Freshers – ₹2.5-3.5 LPA
Executives (2-4 years) – ₹5-8 LPA
Managers (5+ years) – ₹10-15 LPA
Top companies like Accenture, Capgemini, Dell, TCS, Cognizant, and Tech Mahindra regularly hire digital marketing professionals. Other sectors like ecommerce, healthcare, finance, and education also recruit digital marketers.
I hope this gives you a good overview of the diverse options you have after completing a digital marketing certification or course. The industry demand and rewards are high for skilled digital marketers.
Do share in the comments if you have any other questions. I'm always happy to guide you on building a rewarding digital marketing career!
John is a Digital Marketing Trainer and Blogger and YouTube creator with 5+ years work experience in digital marketing field. He is the founder of Digital Badi.