What is Mailchimp? How it is Useful in Digital Marketing?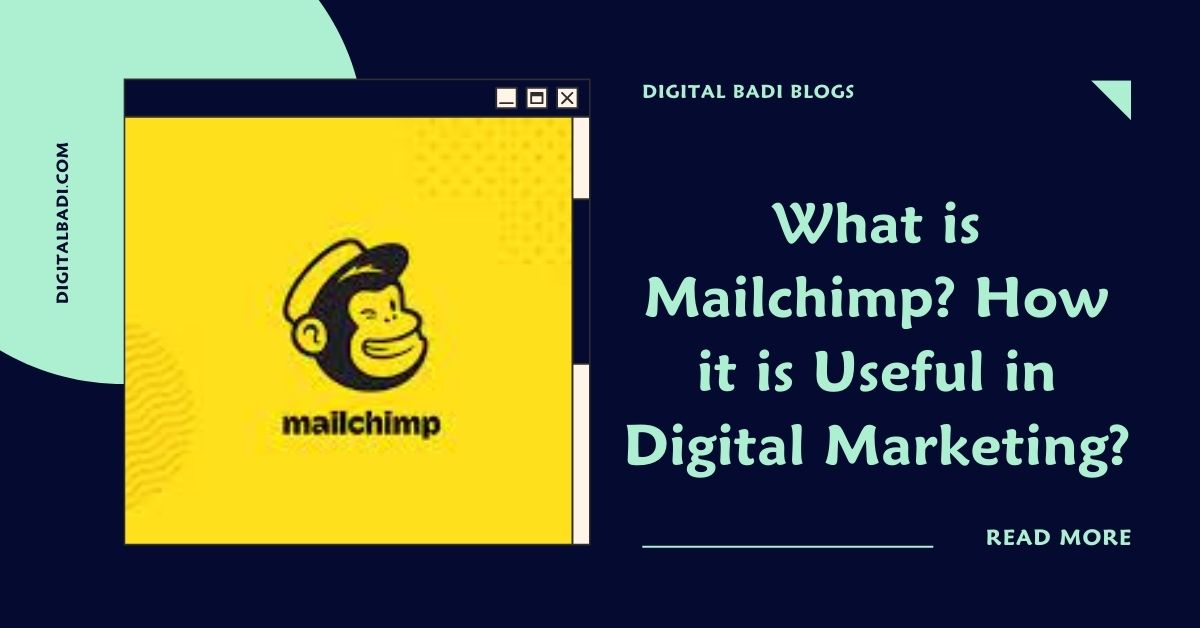 What is Mailchimp? How it is Useful in Digital Marketing?
What is Mailchimp:- Hey everyone! This is John from Digital Badi where we provide training on digital marketing tools like Mailchimp.
In this post, I'll provide an overview of Mailchimp and how it can amplify your email marketing efforts as part of your digital marketing strategy.
What is Mailchimp :-Is one of the most popular email marketing platforms today. It aims to make professional email campaigns accessible for everyone.
At Digital Badi, Mailchimp is our top recommendation for email marketing software based on our extensive use over the years.
Let's look at some of the key features of Mailchimp and email marketing use cases:
User-Friendly Email Campaign Builder
Mailchimp provides a drag and drop email builder that is very intuitive and easy to use.
Key features include:
Modern, responsive templates
Customizable design and branding
Simple drag and drop editor
Image and text blocks
Integrated stock photos and GIFs
This allows anyone to create professional, on-brand email campaigns with no design experience needed.
We use the campaign builder extensively to quickly test different email layouts, content formats and visual styles for clients.
Segmented Audience Targeting
Mailchimp makes it easy to segment your subscriber list and target different groups.
You can create segments based on parameters like:
Location
Purchase history
Interests and preferences
Engagement with past emails
Date of subscription
Sending hyper-targeted emails generates much higher engagement and conversion rates.
Automated Workflows
Mailchimp provides powerful workflow automations like:
Welcome sequences for new subscribers
Shopping cart and browse abandonment flows
Event and promotion triggers
Customer win-back drips
Post-purchase thank you and feedback emails
These automated campaigns run seamlessly in the background without ongoing work.
A/B Testing
You can set up A/B tests to identify the best performing email content variations.
Elements that can be tested:
Subject lines
Content formats
Calls to action
Send times
Segmentation
Our clients see open and clickthrough rates improvements of over 15% using A/B testing.
Engagement and Behavior Tracking
Mailchimp provides detailed analytics on metrics like:
Open, click, and unsubscribe rates
Top content and links clicked
Device and location breakdown
Engagement by subscriber segment
Unsubscribe reasons
Email sharing and forwards
These insights help continuously optimize and improve email performance.
Integrations with CRMs, ecommerce platforms
Mailchimp integrates with popular CMSs and martech solutions including:
WordPress
Shopify
Salesforce
HubSpot
Marketo
Workflows can be set up to sync email data with your CRM, update customer records post-purchase etc.
In-depth Reports
Mailchimp generates comprehensive email campaign reports analyzing:
Engagement stats and trends
Click activity
Top performing content
Open and click map heatmaps
Audience insight breakdowns
Unsubscribe reasons
Easy access to email analytics helps identify what's working and what needs refinement.
Enhanced Deliverability
Mailchimp has invested heavily in deliverability through dedicated IP addresses and intelligent sending infrastructure.
This ensures your emails reach subscriber inboxes and avoid spam filters compared to generic SMTP solutions.
Why Mailchimp is Critical for Digital Marketing
In summary, Mailchimp provides a powerful yet easy-to-use email marketing platform with capabilities to:
Quickly create on-brand email campaigns
Send targeted emails through segmentation
Automate workflows and drips
Continuously optimize emails through testing
Track audience engagement and churn
Integrate with your martech stack
Provide in-depth analytics and reporting
Adding Mailchimp to your digital marketing stack gives unmatched email reach, automation, and analytics capabilities. I highly recommend every online business explore Mailchimp through their forever free plan.
Let me know if you have any other questions on leveraging Mailchimp for your email marketing!
Mailchimp is an all-in-one marketing platform that helps you manage and talk to your clients, customers, and other interested parties. Our approach to marketing focuses on healthy contact management practices, beautifully designed campaigns, and powerful data analysis. We're here to help you become an expert marketer.
John is a Digital Marketing Trainer and Blogger and YouTube creator with 5+ years work experience in digital marketing field. He is the founder of Digital Badi.
What is Collect chat? How it is Useful in Digital Marketing?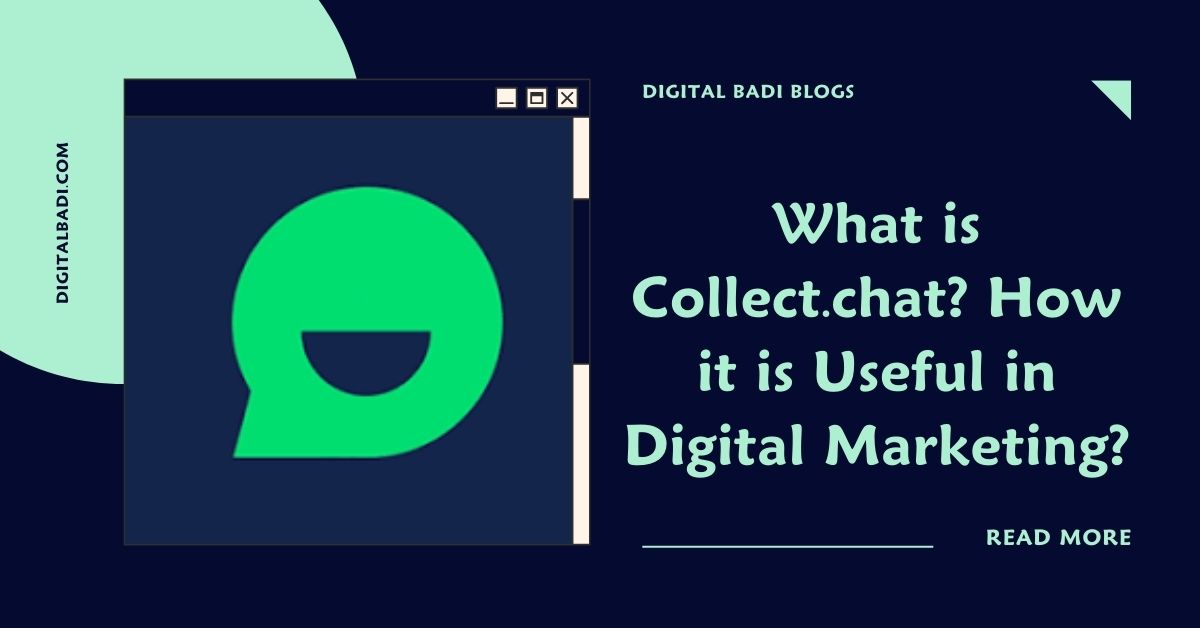 Hey folks, this is John again from Digital Badi! In this post, I'll provide an overview of an interesting messaging platform called Collect.chat and how it can amplify your digital marketing efforts through best lead generation methods. You may wonder what is collect chat? It is a tool interacts with your website visitors and collects contact information of the visitors through chatting.
Collect.chat aims to help businesses boost sales and leads through engaging website chat conversations.
We've started exploring Collect.chat for some of our ecommerce clients to provide personalized browsing assistance. Let's look at some of its capabilities:
Chat Widget Integration: What is Collect Chat
Collect.chat provides a customizable chat widget that can be seamlessly integrated across your website pages.
Useful customization options include:
Widget position – left, right, top, bottom etc
Color scheme matching brand guidelines
Custom images and avatar
Default greeting text
Chat initiation – pop up or not
This allows setting up an on-brand chat experience easily without needing development help.
Live Chat
Once visitors initiate chat, Collect.chat facilitates real-time conversations:
Chat agents can send canned quick responses
Switch to typing customized responses
Transfer chats to other team members
Share images, files and links in chat
Real-time assistance improves customer experience and conversions significantly.
For an ecommerce store, we provided proactive browsing assistance during checkout which increased average order values by 19%!
Chatbot Conversations
Collect.chat has an AI chatbot to automate common conversations:
Answer FAQs automatically
Share product catalogs, brochures etc
Provide contact and support details
Link to relevant pages or kick off workflows
Escalate to human agents when needed
This allows responding to common queries 24/7 without agent availability.
Lead Capture Forms
Lead capture forms can be added to chat conversations:
Initiate form automatically based on chat content
Pop up forms when chat is closed
Custom form fields like name, email, phone no.
Save submissions as leads and customer profiles
Capturing lead data during chat is invaluable for sales follow up.
CRM Integrations
Collect.chat integrates tightly with popular CRMs like:
HubSpot
Salesforce
Zoho
Freshworks
Chat data can update CRM profiles in real-time. Past chats are also logged within the CRM for reference.
This provides broader context during sales conversations.
Team Collaboration
Useful team features include:
Agent status setting like online, offline, away
Transferring chats to appropriate teammates
Chat monitoring for assisting agents
Shared inbox to handle common queries
This allows efficient collaboration between agents for seamless customer service.
Chat Analytics
In-depth analytics are provided on elements like:
Number of chats and missed chats
Chat initiations by page
Most common questions asked
Chat resolution times
Customer satisfaction scoring
These insights help manage resources and optimize chat experience.
Why Collect.chat is Critical for Digital Marketing
In summary, Collect.chat enables:
Installation of customized chat widgets
Real-time and AI-powered conversations
Lead capture forms for conversions
CRM integration for customer context
Team collaboration capabilities
Robust analytics to refine approach
For any business prioritizing customer experience and conversions, Collect.chat is a must-have messaging platform.
I recommend exploring it through their free trial. Collect.chat can significantly amplify your digital marketing success. Let me know if you have any other questions!
Join our digital marketing course in Hyderabad and Master the digital marketing subject.
John is a Digital Marketing Trainer and Blogger and YouTube creator with 5+ years work experience in digital marketing field. He is the founder of Digital Badi.
What is SEMrush? How it is Useful in Digital Marketing?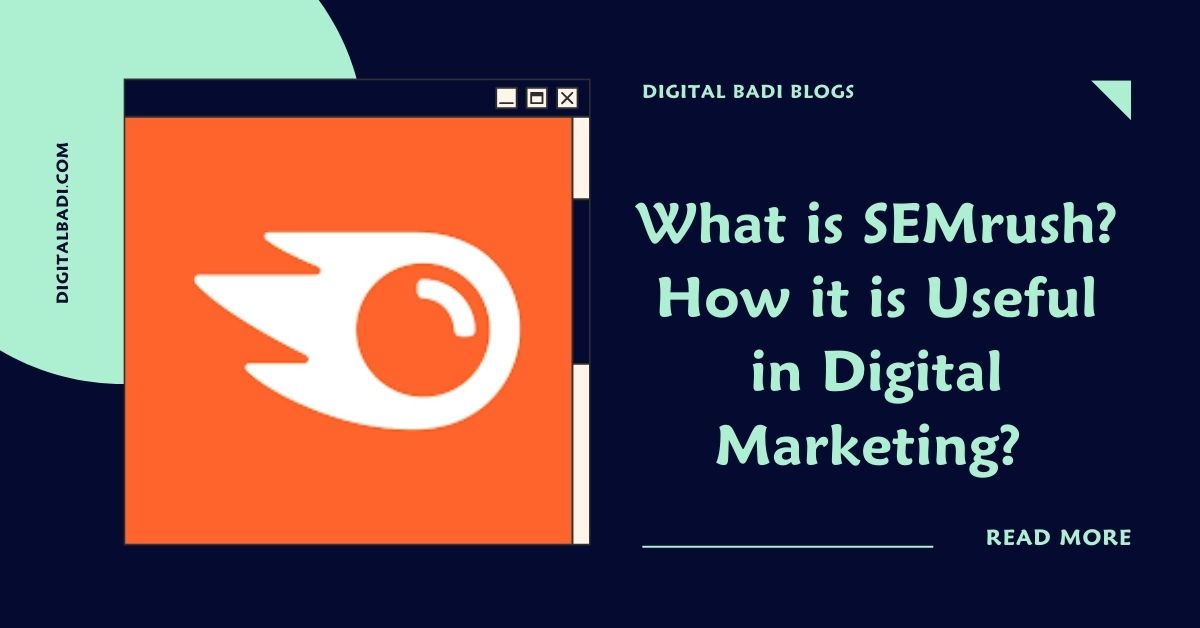 Hey folks, John here again from Digital Badi! In this post, I'll provide an overview of the powerful marketing toolkit SEMrush and how it can amplify your digital marketing efforts.
What is SEMrush?
SEMrush provides robust SEO, PPC, content marketing, and competitive analysis capabilities under one roof. It aims to be an all-in-one digital marketing toolbox.
We leverage SEMrush extensively for activities ranging from keyword research to brand monitoring and PR outreach. Let's explore some key features:
SEO Keyword Research
SEMrush offers access to its huge keyword database and search metrics for better SEO targeting:
Monthly search volume and trends
Keyword Difficulty scores
Competing domains
Related keywords and questions
Search ad bid estimates and competition
These insights help identify the best SEO keywords to focus on content creation and optimization efforts.
For example, using SEMrush we uncovered "dental implants problems" as a valuable low competition term for a client clinic. Optimizing for it drove a 36% increase in organic leads within 2 months!
Backlink Analysis
SEMrush allows analyzing the backlinks of any website with metrics like:
Total backlinks
Referring domains
Toxic backlinks
Linking domains by industry/location
Anchor text usage
These insights help assess competitors' link building strategies and identify link acquisition opportunities.
Rank Tracking
You can track website rankings for target keywords across Google and 150+ other search engines through:
Current ranking positions
Historical rankings graphs
Ranking alerts
Location and device tracking
Click-through rates
Continuous rank tracking helps diagnose SEO issues quickly and improve rankings.
Content Audit and Gaps
SEMrush audits your existing content and reveals gaps in topics relative to competitors and industry.
This highlights content development opportunities around questions and keywords your site should be targeting but isn't currently.
For one client, the content gap analysis showed competitor sites ranking for "wordpress loading speed optimization" tips while their site had zero relevant content. Creating an optimized tips guide targeting that keyword drove 2500+ new organic visitors a month!
Site Audit
A comprehensive technical SEO audit can be done to diagnose issues like:
Duplicate content
Crawl errors
Broken backlinks
Security weaknesses
Page speed optimizations
Fixing these site health issues is invaluable for maintaining and improving rankings.
PPC Keyword Research
Robust data is provided for paid search campaigns like:
Search ad bid estimates
Competition for keywords
Click-through rates
Top ad copy and landing pages
This helps build an optimal PPC keyword list and devise targeting strategies.
Competitor Research
You can thoroughly research competitor digital marketing strategies through:
Rankings and traffic sources study
Backlink analysis
Ad copy research
Content promotion tracking
New strategies monitoring
These provide a blueprint for leapfrogging competitor efforts in areas like content, backlinks, PPC, and social media marketing.
Metrics-Driven Content Planning
SEMrush gives data-backed recommendations for content development through:
Untapped high potential topics
Content gap analysis
Keyword research and traffic estimates
Competitor benchmarking
This takes guesswork out of content planning and helps drive growth.
Why SEMrush is Indispensable for Digital Marketing
In summary, SEMrush provides expansive SEO, PPC and content marketing capabilities:
Discover high value keywords for organic and paid campaigns
Analyze competitors' strategies and backlink profiles
Track website rankings and fix technical issues
Uncover content gaps to target
Research ad copy and landing pages
Thoroughly audit website for SEO and security
Plan content backed by data and metrics
Whether you handle marketing in-house or at an agency, SEMrush should definitely be in your martech stack. It integrates seamlessly with Google Analytics, Search Console, ads platforms, and more.
I recommend exploring SEMrush through their free trial to experience the power firsthand. Let me know if you have any other questions on leveraging it for your digital marketing success!
We are providing the best digital marketing course in Hyderabad. Online and Offline training available.
John is a Digital Marketing Trainer and Blogger and YouTube creator with 5+ years work experience in digital marketing field. He is the founder of Digital Badi.
What is UberSuggest? How it is Useful in Digital Marketing?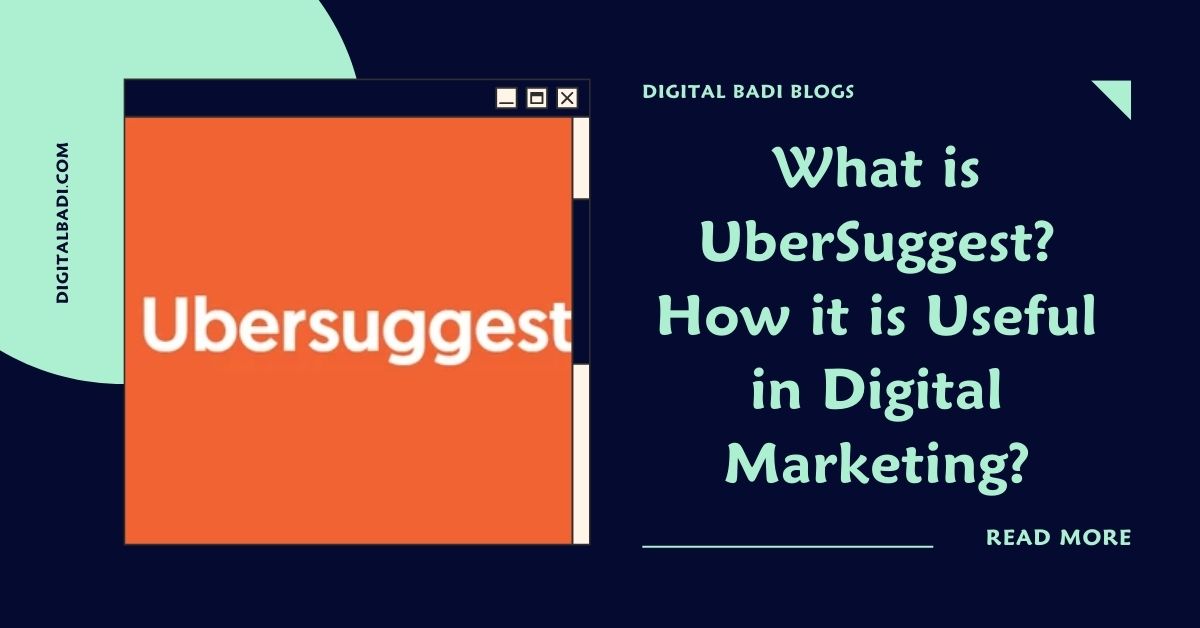 Hey folks, John here again from Digital Badi! In this post, I'll provide an overview of a nifty free keyword research tool called UberSuggest and how it can amplify your SEO efforts.
What is Ubersuggest
UberSuggest allows generating endless keyword ideas and analyzing search data for better SEO targeting – all for free!
We routinely use UberSuggest as part of our keyword research workflow for clients. Let's explore some of its capabilities:
Extensive Keyword Data
UberSuggest draws from Google's keyword data to provide useful SEO metrics including:
Monthly searches
Keyword difficulty
Paid vs organic traffic
Top pages ranking for the keyword
Related keywords and questions
This data helps gauge competition and search volumes to identify the best SEO keywords to target.
Keyword Idea Generator
UberSuggest makes keyword research effortless through its idea generator.
Just enter a seed keyword like "mesothelioma lawyers" and it'll automatically suggest endless long tail variations like:
mesothelioma lawyers california
navy mesothelioma lawyers
lawyers for mesothelioma lawsuit
florida mesothelioma lawyers
The long tail keywords have lower competition so are easier to rank for. This allows expanding your keyword list 10x to target untapped traffic.
Google Autocomplete Integration
UberSuggest leverages Google autocomplete data to show you what people are searching for in real-time.
This helps create content around informational keywords and questions people are actively looking answers for.
We look at autocomplete suggestions to find tons of conversational keywords and pillars to base our content strategy on.
Semantic Keyword Matching
UberSuggest automatically groups keywords into semantic buckets using AI.
For example, for "mesothelioma" it groups keywords by:
Symptoms
Treatment options
Life expectancy
Lawsuits
Doctors
Survival rate
This provides a framework to create comprehensive, in-depth content around a topic targeting all facets.
Clickstream Keyword Data
UberSuggest shows clickstream search data revealing the downstream keywords people search for after initial queries.
For example, people who search for "mesothelioma" later search for:
mesothelioma stages
pleural mesothelioma life expectancy
peritoneal mesothelioma
Basing content around these downstream searches drives maximum organic traffic.
Question Keyword Identification
The tool highlights the top questions asked around any topic like:
what is diffuse malignant mesothelioma?
where does mesothelioma develop first?
how fast does mesothelioma progress?
Focusing content on answering these questions drives organic visibility and improves user experience.
Competitor Keyword Analysis
You can input a competitor URL and UberSuggest reveals the top keywords driving organic traffic to their site.
Analyzing competitors' successful keywords gives you proven targets to go after.
Why UberSuggest is Indispensable for SEO
In summary, UberSuggest provides expansive capabilities to:
Access Google's keyword data
Generate endless long tail variations
Leverage real searcher intent through autocomplete
Uncover semantically related keywords
Identify downstream search queries
Highlight top questions to answer
Analyze competitors' top SEO keywords
The tool is completely free and easy to use. For both agencies and in-house SEO, UberSuggest should be a key part of your keyword research workflow.
I highly recommend every SEO practitioner try UberSuggest to kickstart keyword ideas and stay on top of latest search trends. Your SEO strategy will benefit tremendously from the capabilities it provides.
Let me know if you have any other questions!
We are providing the best digital marketing course in Hyderabad through classroom and online training. Call us for admissions 9573439404
John is a Digital Marketing Trainer and Blogger and YouTube creator with 5+ years work experience in digital marketing field. He is the founder of Digital Badi.